Surprise Your Tricksters With Spook-tacular Treats!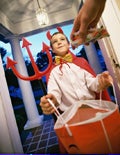 Halloween creeps up on you and there's no better way to surprise your tricksters than with tasty treats! Bewitch your family with these spellbinding suggestions to make their Halloween frighteningly fun!
Mr. Bones: Create this spooky skeleton and add Halloween fun to the breakfast table! To create Mr. Bones, simply use a silver dollar pancake for the head, bacon for his body, legs and arms, and orange slices for hands and feet. Finish this fun fellow off with candy corn for his eyes and nose and watch your kids make him disappear!

Scary Sandwich Fun: Use Halloween cookie cutters in the shape of bats, pumpkins and ghosts and turn a boring sandwiches into a boo-tiful masterpiece. For very young children, place holiday cookie cutters directly on a slice of cheese for a healthy Halloween treat.

Spook-ghetti: Cook spaghetti according to package and drain. Add a small amount of green food coloring and butter. Mix together for a bright green spook-ghetti surprise!

Happy Jack Pizza: Order or prepare a plain cheese pizza. Give your family small bowls filled with pepperoni, pepper rings, mushrooms and sausage slices and let them create a their own grinning pizza that will rival any jack-o-lantern!

Grinning Ghost-Pops: This fun decoration is also a sweet, scary snack! Open a white paper dinner napkin to its full size and lay flat with the inside facing up. Place a round lollipop (still in its original wrapper) in the center of the napkin. Pull the napkin over the lollipop and use a rubber band to cinch the napkin, creating a head for the ghost. With a marker or pen, draw a smiling or scary face! Leave one at each place setting for a haunting reminder of Halloween fun!