Halloween Party Ideas to Make Them Shriek with Delight!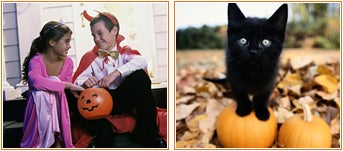 Capture the spirit of Halloween with fun party ideas, ways to decorate your home and party tips to make any ghostly gathering a scream! Incorporate the rich colors of the fall season such as orange, black, yellow, red, brown and tan easily by shopping for gourds, Indian corn and small pumpkins at your local grocery or florist. Spread these seasonal sensations throughout every room in your home or place them on window sills, a mantel place, and end tables or gather them in a natural straw basket for a colorful and inexpensive centerpiece.
Halloween Party Themes
Nothing says "Halloween fun" like a costume party. But don't just throw any old celebration — pick a theme and make sure you tell your party-goers what you've got in mind. Create spooky invitations on the computer or hand-write them in splotchy red ink, and indicate what your costume theme is this year. A scary movie soundtrack that matches your theme, some dry ice for spooky "smoke" and a black tablecloth sets the stage for a party that's horrifyingly cool!
13 Halloween Theme Parties to die for!
Favorite Movie Monsters (King Kong, Godzilla, or the Blob — let your imagination be your guide)
Superheroes Only (Godspeed, Captain Marvel!)
A Pirate's Life For Me (Don't forget your sword)
Vampire Supermodels (no explanation necessary)
Meet the Parents (dress up like your in-laws or parents)
Politicians (Nixon, Reagan, Clinton)
Pop Superstars (Michael Jackson, Britany Spears, Gwen Stefani, Christina Aguilera)
Former Rock Stars (Buddy Holly, Janis Joplin, Jimi Hendrix)
Stage & Screen (Marilyn Monroe, Elvis Presley)
1960s & 1970s TV Shows (I Dream of Jeannie, Bewitched, The Munsters)
Gypsies, Tramps & Thieves (dress like Cher, or one of these three favorites)
Create and Carve!
Instead of goody bags, carve a jack-o-lantern for each Halloween guest or make it an activity for everyone to participate in at the party.
For the entrance into your home, don't forget to add a jack-o-lantern on the porch or front steps to welcome trick-o-treaters! If you're concerned with using real candles, try battery operated ones or small flashlights to give your pumpkin its traditional Halloween glow. Or use acrylic paints to create a variety of different faces and cartoon characters — simply paint each pumpkin a different color for a charming effect.
Want a fun twist on the traditional? Create an illuminating effect instead of a traditional grinning face! Just draw a simple design on the outside of your pumpkin. Instead of carving or cutting into the shell, use a dull knife and just scrape the shell down until you reach the inside layer of the pumpkin. Place a candle inside and watch your design come to life!
Spooky Scenery!
Create a ghostly environment on the front step or lawn with dry ice! Find a steel bucket or metal caldron and fill with water. Using gloves (never touch dry ice with bare hands) drop in chunks of the ice (available at your local grocery store) at regular intervals creating an eerie fog.
Give your doorways a creepy touch by stringing "cobwebs" available at most hobby or craft stores. A few plastic spiders complete the effect.
White sheets immediately turn any home into a haunted one. Simply drape over the furniture and lightly dust with cornstarch to create that dusty effect when guests sit down. The sheets also keep furniture clean during the festivities!
Let the kids go wild with eerie pictures that they can hang on the windows, or get the magnetic stickers that go on the windows without tape. Witches, skulls and crossbones, pumpkins, mummies and more will make your windows look "spook-tacular!"
Foam board, available at most craft stores, or hard cardboard boxes easily convert into tombstones to transform a front yard into an instant cemetery. Simply cut out a large oval. Cut in half and you have two tombstones. Stick into the grass and write a fun epitaph such as: Here Lies the Body of Lester Moore, Fell Out of Bed and Hit the Floor. Now, No Les, No More!