Peter Post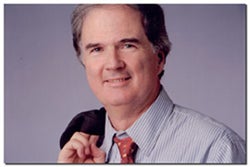 Peter Post is a director of the Emily Post Institute and author of three etiquette books. With a distinct voice and unique perspective, Peter tackles manners foibles with self-deprecating humor, clarity and wit. His newest book, Essential Manners for Couples (Nov. 2005) paves the way for couples everywhere to identify their relationship problems before the trouble starts?thus completely eliminating the need for relationship self-help hucksters the world over.
In 2004, "Etiquette at Work" Peter?s weekly Q & A business advice column debuted in the Boston Sunday Globe. Now, it?s syndicated by the New York Times. In 2005, his monthly column "Professional Courtesy" was launched in Men?s Health. Peter presents business etiquette seminars to companies both in the U.S. and Europe?he just returned from Stockholm, Sweden.
Since the release of Essential Manners for Men (2003), Peter has done more than 500 media interviews on men?s manners (or lack thereof). Media requests for Peter come in by the truckloads. Reporters want to talk about CEO ethics, toilet seats, co-workers with body odor, tipping, socializing with clients and co-workers, table manners, and what to do when you slam your boss in an email and then send it to her by mistake. Hey, it happens.
As a hired gun, Peter has promoted Korbel champagne (artfully offering tips on how to propose) and Puffs facial tissue, volunteering advice on polite nose blowing. He did 33 television interviews without once uttering the dreaded ?K? word?Puff?s main competitor. No small accomplishment.
How did Peter get so good at this stuff? Well, it might be the genes?he is the great-grandson of Emily Post. (Yes, that Emily Post. Yes, she was a real person. No, she?s not still around?she died in 1960.) Or it could be his background. He?s been a teacher, an artist, a newspaper reporter and he?s owned and run a marketing agency for 20 years. He has a master?s degree in fine art from Pratt Institute and a bachelor?s degree from the University of Pennsylvania. Peter has two grown daughters and a hot wife?to whom he?s been married to for 32 years. They live in Charlotte, Vermont, and together make a very courteous couple.
Books:
Essential Manners for Couples
, Nov. 2005
The Etiquette Advantage in Business
, 2nd edition, May, 2005
Essential Manners for Men
, Nov. 2003 (a New York Times bestseller)
Columns:
"Professional Courtesy," monthly, Men?s Health
"Etiquette at Work," weekly, syndicated by the New York Times
| | |
| --- | --- |
| Media Interviews: | Seminars & Speeches: |
| CBS "The Early Show" | Ernst & Young |
| NBC?s "Dateline" | Deutsche Bank |
| NBC?s "Weekend Today" | Verizon |
| CNBC "Squawk Box" | Pfizer |
| CNN?s "Crossfire" | Fidelity Investments |
| CNN and CNNfn | General Dynamics |
| WNBC-TV, New York City | M.I.T. |
| USA Today and USA Today.com | University of Denver |
| The Diane Rehm Show | Dartmouth College |
| People Magazine | Wharton School of Business |
| Wall Street Journal | Gibson & Associates, Chicago |
| New York Times | Huron Consulting, Chicago |
| Boston Globe | Cornell Club of New York |
| Los Angeles Times | Central VT Home Health & Hospice |
| Fortune | The Colony Club, New York |
| Working Woman | University Club of Chicago |
| Baltimore Sun | University Club of San Francisco |
| Atlanta Journal Constitution | University Club |