Thanksgiving Meal Ideas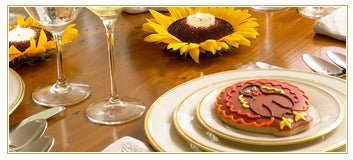 Ah, Thanksgiving. Many people across the nation look forward to this holiday not only to catch up with family and friends, or to get together and watch football, but to eat a delicious turkey with all the trimmings! In fact, the holiday is often referred to as "Turkey Day". Some of the most common foods eaten on Thanksgiving Day are stuffing, mashed potatoes and gravy, sweet potatoes, cranberry sauce, corn and pumpkin pie, all dishes native to the Americas.
But if you really love to cook, why not try something completely different this Thanksgiving?
1-800-FLOWERS.COM recently partnered with some of the most prestigious names in the culinary world to create our Celebrity Chefs Collection of Gift Baskets. Great for any occasion, they're especially great to give (or to get!) during Thanksgiving to make your celebration an unforgettable gourmet feast!
Paula Deen has created a wonderful Cooking Basket with marinades, salad dressings, the special "House Seasoning" used at Deen's restaurant The Lady and Sons, and a dish towel.
The one-and-only Barefoot Contessa has created two amazing baskets:
the Barefoot Contessa Baking Hamper with mixes for Outrageous Brownies and Coconut Cupcakes with Cream Cheese Frosting, as well as a wooden spoon and a tea towel. It's the next best thing to having Ina Garten come to your house and cooking Thanksgiving dessert for you!


the Barefoot Contessa Breakfast Tray, with buttermilk biscuit mix (also great for Thanksgiving dinner), as well as mixes for Pancakes and Waffles, blood orange marmalade, berry preserves, and maple syrup. A great idea for the Friday morning after Thanksgiving, when you want to get out of the kitchen and to the mall!
Want to shake it up a little this year? Why not grill Thanksgiving Dinner? On his BBQU Web site, Steven Raichlen, "The Professor of Barbecue", has a great recipe for the perfect brined and hickory-smoked Thanksgiving Turkey. After you've checked that out, come back here to check out two official Steven Raichlen gift baskets: his Barbecue Basket and his Beer Can Chicken Basket.
Want the perfect Thanksgiving Dessert to wrap up dinner? Add a savory finishing touch with Sam Godfrey's incredible Perfect Endings cakes.
For more information, and for our marvelous "menu" of products, check out our Celebrity Chefs collection today!