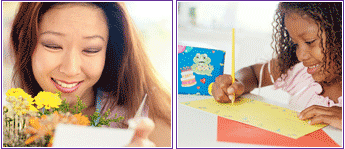 The earliest greeting cards can be traced back thousands of years to the ancient Chinese, who exchanged messages of good will to celebrate the New Year, and to the early Egyptians, who sent best wishes on papyrus scrolls.
By the early 1400s, handmade paper greeting cards and woodcut cards were being exchanged in Europe. But a greeting card was an expensive, labor-intensive gift that took lots of time and effort to create. By the 1850s, improvements in printing and mechanization transformed the greeting card industry forever. The tradition of sending birthday cards started in England about 100 years ago. Originally cards were often sent as an "apology" when a person couldn't visit somebody in person. Today, there are hundreds of cards out there to help you show that you remembered your loved one?s big day.
Can't find the right card at at the local supermarket or drug store? Visit 1-800-FLOWERS.COM's
Paper Greeting Cards
to create and send some great personalized cards for birthdays or any other occasion.