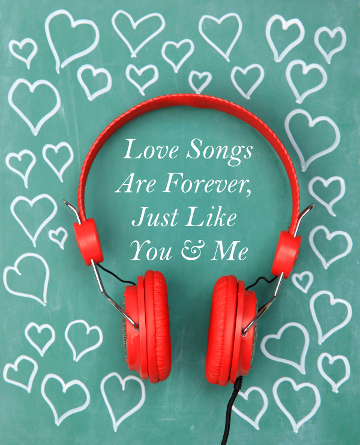 Roses are red, violets are blue?and let?s face it, most of us aren?t natural born poets.
Sometimes it?s best to let the music do the talking, and that goes for when you?re trying to send the perfect anniversary, engagement, wedding or Valentine?s Day message to your sweetheart.
Sending romantic flowers is a good start, but filling out the card can be tough. Drawing inspiration from your favorite song or a classic love song can help. Here are some romantic songs to get you in the mood sorted by genre.  Another cool idea is to make a ?Best Love Songs? mixtape for your sweetie and just push play!

Classic Love Songs
?Unforgettable? by Nat King Cole
Vibe: Classy orchestral standard by a smooth crooner
Quotable lyrics:
? ?Unforgettable, that?s what you are?
? ?That?s why, darling, it?s incredible/That someone so unforgettable/Thinks that I am unforgettable too?
Video:

?Can't Help Falling in Love With You? by Elvis Presley
Vibe: ?The King? at his most romantic and sincere
Quotable lyrics:
? ?Some things are meant to be?
? ?Take my hand, take my whole life too/For I can't help falling in love with you?
Video:

?Fly Me to the Moon? by Astrud Gilberto
Frank Sinatra and Tony Bennett also perform memorable versions of this popular standard.
Vibe: Chill, loungey, bossa nova
Quotable lyrics:
? ?You are all I long for/All I worship and adore?
? ?In other words, I love you?

Rock Love Songs
?Love Song? by Tesla
A great song for a friend who needs encouragement on Valentine?s Day or a new relationship.
Vibe: Soulful, acoustic intro transitions into hopeful rock anthem
Quotable lyrics:
? ?Any time you call, night or day/I?ll be right there for you, if you need a friend?
? ?Love is all around you/Love is knockin? outside your door?
? ?Keep an open heart and you?ll find love again, I know?

?Wonderful Tonight? by Eric Clapton
Vibe: Slow dance time; rocker confessional
Quotable lyrics:
? ?You look wonderful tonight?
? ?I feel wonderful/Because I see the love light in your eyes?

?Maybe I?m Amazed? by Paul McCartney
Vibe: Cool enough to rock to, sweet enough to sing
Quotable lyrics:
? ?Maybe I?m amazed at the way I really need you?
? ?You?re the only woman who could ever help me?

R&B/Soul Love Songs
?No One? by Alicia Keys
Vibe: Triumphant v-day love with hip-hop swagger
Quotable lyrics:
? ?You and me together/Through the days and nights/I don't worry ?cause everything?s gonna be all right?
? ?No one can get in the way of what I feel for you?
? ?I know some people search the world/To find something like what we have?

?Can?t Get Enough of Your Love, Babe? by Barry White
Vibe: Sexy disco soul from the ?Prince of Pillow Talk?
Quotable lyrics:
? ?I can?t get enough of your love, babe?
? ?How can I explain all the things I feel/You?ve given me so much?

?I?ll Make Love to You? by Boyz II Men
Vibe: End of the night: flowers, candlelight and your imagination
Quotable lyrics:
? ?Tonight is just your night/We?re gonna celebrate all through the night?
? ?I?ll hold you tight, baby all through the night?
? ?I will not let go ?til you tell me to?

Country Love Songs
?Breathe? by Faith Hill
Vibe: Earnest, impassioned and grateful
Quotable lyrics:
? ?When I?m lying wrapped up in your arms/The whole world just fades away?
? ?There?s nothing left to prove/Baby all we need is just to be?

?Your Everything? by Keith Urban
Vibe: Sweet and sensitive at sunrise
Quotable lyrics:
? ?The first time I looked in your eyes, I knew/That I would do anything for you?
? ?I want to give back what you?ve given to me?
? ?Now that you?ve show me who I really am/I wanna be more than just your man?
? ?I wanna be your everything?

?Islands in the Stream? by Kenny Rogers & Dolly Parton
Vibe: Joyful love, karaoke duet heaven
Quotable lyrics:
?You do somethin? to me that I can?t explain/Hold me closer and I feel no pain/Every beat of my heart, we got somethin? goin? on?
?Everythin? is nothin? if you?ve got no one?
? ?This could be the year for the real thing?

Pop Love Songs
?Just The Way You Are? by Billy Joel
Vibe: Mellow Saturday afternoon shuffle with sax
Quotable lyrics:
? ?Don't go changing, to try and please me/You never let me down before?
? ?I just want someone that I can talk to/I want you just the way you are?
? ?I said I love you and that's forever?
? ?I could not love you any better/I love you just the way you are?

?The Rose? by Bette Midler
Vibe: Deep, powerful, transformative
Video: http://youtu.be/l3SVXz3TFr8
Quotable lyrics:
? ?I say love, it is a flower, and you its only seed?

?Crazy for You? by Madonna
Vibe: Perfect 80s pop love ballad for any romantic day
Quotable lyrics:
? ?I?m crazy for you?
? ?I never wanted anyone like this/It?s all brand new?
? ?Every breath I?m deeper into you?

Ultimate Valentine Song
?Valentine? by Martina McBride
Vibe: Country-tinged Valentine?s Day song
Quotable lyrics:
? ?You?re all I need, my love, my valentine?
? ?All of my life/I have been waiting for all you give to me?
? ?You?ve opened my eyes and shown me how to love unselfishly?
? ?I?ve dreamed of this a thousand times before/But in my dreams I couldn?t love you more/I will give you my heart until the end of time?