Guide To Mother?s Day Gifting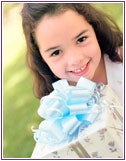 Every Mom should have her day, and things her own way on that special day! So, do you know what kinds of gifts would delight your Mother? Here?s a quick, fun guide to ?Mom Types? to clue you in on what might turn a ?that?s nice dear? day into a ?that?s fantastic!? Mother?s Day for your Mom.
The Red Carpet Mom
You?ve always said that your mom was the most gorgeous girl on the block, and you were right! Maybe she isn?t glamming it up on the Red Carpet, but that?s only because no one has asked yet!
Red Carpet Mom Profile
How do you tell if your Mom fits the Red Carpet Mom profile? Take this quiz:
Your Mom wore a Chanel suit to your fourth grade play while all the other moms wore sweat suits. (T) (F)
Your Mom and Jimmy Choo are on a first-name basis. (T) (F)
It takes your mother at least 3 hours to put on makeup for the gym. (T) (F)
Your Mom thinks the gals on Sex and the City could use some fashion tips from her. (T) (F)
Your Mom?s fashion sense makes Grace Kelly look like a slacker. (T) (F)
Your mother looks better than you in a bikini. (T) (F)
There has never been a bad photo of your mother. Ever. (T) (F)
If you answered ?T? to the above questions, your Mom is a Red Carpet Mom!
So what do you get for the most glamorous girl in the world? Here are some gift ideas that will surely rate a big ?thumbs up? from your Red Carpet Mom.
Stunning Gifts for Your Red Carpet Mom:

Heirloom by Preston Bailey
Preston's award-worthy arrangement of fresh hydrangea, peonies, roses, lisianthus and ?Gloriosa? lilies (which stand for the unique glory of motherhood) is paired with a stunning antique-finish silver tureen vase on a footed pedestal. It's a gift that's a real show-stopper--just like your Red Carpet Mom!

Rose Chocolate by Jane Packer
Gathered together in the elegant European tradition, Jane?s breathtaking bouquet of rare assorted pink roses and flowing spray roses matches her inner and outer beauty, meant to dramatically cascade out of the handsome wicker hatbox basket. It'll remind her to make a grand entrance every time she enters a room--all she'll need is the feather boa!
Perfect Endings Mother's Day Cakes
Sam Godfrey's Napa Valley bakery, Perfect Endings, tops off Mom's day in style with these unique gourmet treats! They may look like the perfect accessories to her night on the town, but they're actually mouthwatering cakes beloved by celebrities nationwide. Choose from a Purse Cake, Bonnet Cake or Present Cake--she'll love them all!

Mother?s Embrace™
Embrace your feelings for that Red Carpet Mom with our stunning bouquet of roses, Gerbera daisies, daisy poms and more, beautifully arranged by our florists inside a gorgeous keepsake ceramic vase. Just for her, we've included a matching ceramic jewelry box Mom can use to hold those precious gems after a night on the town.

Mom?s Favorite Dress
Let Mom strut her stuff down the runway of great taste with our dazzling dress-shaped tower! Filled from neckline to hemline with mouthwatering orchard-fresh fruit and gourmet delicacies, it's a great gift for entertaining or any Mom who loves the spotlight. Includes a beautiful floral pin she can remove and wear to show off to her favorite gal pals!

Pure Sophistication
Your sophisticated lady will simply adore our magnificent bouquet of yellow mini Calla lilies, paired with an exquisite keepsake ceramic vase in striking black and white and decorated with a gorgeous flower pattern. It's a gift of elegance and flair that's a pure classic--just like Mom!

Abundant Love™ for Mom
For the Red Carpet Mom that craves more, more, more, shower her with our abundant bouquet of one dozen gorgeous roses, Stargazer lilies, snapdragons, peonies, and more. Beautifully designed inside a stunning purple vase accented with a pink ribbon, it'll make her feel like the star that she is on her day of days!
The Office Mom
Your mom has been working since she was old enough to toast her own bread, and she?s not ashamed to admit it. She not only brings home the bacon, she?s been known to fry it up in the pan while taking a conference call from Singapore five minutes before carpooling ten kids to soccer practice. Your mom is a no-nonsense, take-charge kind of gal, and she?s all about results.
Does your mom falls into this category? Take this quiz to find out:
Your mom?s off days are based on the school calendar. (T) (F)
Your Mom wears business casual attire on the weekends. (T) (F)
Your mother strongly identifies with the cast of ?9 to 5.? (T) (F)
She can tell you, down to the nanosecond, how long it takes to get from her office building to your front door. (T) (F)
She was doing ?hands-free calling? before there was such a thing. (T) (F)
She?s been known to put you on conference call with your father to discuss family pizza night. (T) (F)
She?s got time budgeted into her daily planner for disasters and acts of God. (T) (F)
If you answered yes to these questions, you?ve got yourself an Office Mom!
Great Gift Ideas for the Office Mom

Pour Your Heart Out™ to Mom
Just the thing for your Office Mom to enjoy at her desk (or while burning the midnight oil at the home computer), our gorgeous gathering of fresh roses and daisy poms arrives in a beautiful, reusable etched glass carafe accompanied by a matching cup so she can enjoy a refreshing drink after the flowers are gone. So elegant, all her co-workers will want one!
Vineyard Elegance for Mom
Whether she works at a vineyard, mans the phones all day or is in meetings from 9 to 5, Mom will positively love our luxurious basket of premium Chardonnay wine and delicious gourmet snacks, personally selected by our gourmet experts to help her unwind after a rough day at the office. It's a terrific gift she'll want to order herself to impress her co-workers or clients!

Phalaenopsis in Black and Silver Planter
Dazzle your Office Mom with our exotic Phalaenopsis orchid, arriving budding and ready to bloom in a black and silver ceramic planter with a metallic finish. It's a modern masterpiece of luxury and beauty that will look perfect on her desk, right next to your picture!

Make Mom's Day Bouquet
Make her day an utter delight by sending our vibrant bouquet of one dozen pink sweetheart roses, double white lisianthus, burgundy mums and purple waxflower, accompanied by a handsome green ceramic vase with floral etching. She'll be the envy of the office pool or executive row!

Mother?s Devotion™
Show that Office Mom that you're utterly devoted to her tireless work ethic with this breathtaking arrangement of roses, lilies, daisies, asters and more, gathered by our select florists inside an exquisite Mother of Pearl bubble bowl vase. It's a gift that will always have her thinking of you, no matter how busy she is!

Taste of Tea
Forget coffee breaks--send your Office Mom on an unforgettable gourmet tea break with our unique cup and saucer-shaped wicker basket that arrives filled to the brim with a selection of high-quality Harvey & Sons tea sachets, delicious gourmet cookies and sugar sticks.
The Gourmet Mom
When your best friends? moms were serving hamburgers, steak fries and chocolate shakes for dinner, your mother was serving chateaubriand with Portobello mushrooms and Madeira wine. Your mother was born to cook, entertain, and savor the finer things in life with the people she loves.
Is your Mom a true Gourmet Mom? Take this quiz to determine her true ?mom? style.
You have never experienced a dry (or burned) turkey dinner with lumpy gravy on the side on Thanksgiving Day (or any other day). (T) (F)
Your mother?s idea of fast food consists of 3 courses, plus appetizers, desserts and wine. (T) (F)
You have seen your mother with flour on her face on more than one occasion. (T) (F)
Your mother says things like ?why go to the bakery? I like the smell of fresh baked bread/muffins/cake/croissants in my house! (T) (F)
When everyone else?s mom brought store-bought cakes and cookies to your ?Patriotic Party? at school, your mom brought a 7-tiered cake shaped like the Statue of Liberty. (T) (F)
Your mother dreams of going to Paris or Rome not to see the sights, but to eat in the restaurants. (T) (F)
She has never used paper plates and never will. (T) (F)
If you answered ?T? to any or all of these questions, you?ve got yourself a Gourmet Mom!
Decadent Gifts for your Gourmet Mom

Mother?s Love Bouquet™
For all the marvelous meals she's tirelessly prepared for you, give back all the love in your heart with our striking arrangement of roses, Gerbera daisies, carnations, lilies, and more. It's designed in a white ceramic hinged canister--complete with a lid and metal spoon--that she can reuse as a stylish container for holding sugar or tea.

Mother's Day Polka Dot Tea Pot
This totally tea-rific gift is perfect for the Gourmet Mom! A perfectly pretty pair of pink mini rose plants arrives with a polka-dotted ceramic tea pot with matching tea cup. We've also included a pair of Harney & Sons gourmet tea sachets so she can have a relaxing cup of tea any time of day!

Junior?s Spring Cheesecakes
Whether she loves desserts or loves entertaining, Gourmet Mom will grab the nearest fork when you send her one of Junior's savory cheesecakes! Straight from Brooklyn, NY come Junior's luscious Lemon Coconut Cheesecake and sinful Strawberry Cheesecake, two delicious sensations guaranteed to tempt her taste buds!

Pleasantly Purple™ for Mom
Our eye-catching Spring arrangement of roses, carnations, lisianthus and more will fill Mom's kitchen with purple pizzazz, arriving in a stunning lavender acrylic pitcher she can reuse after the flowers are gone to whip up a fresh batch of her guest's favorite beverages!

Mom's Favorite Recipe by Julie Mulligan
Thank her for all hours she's spent preparing mouthwatering meals for you with Julie's unique bouquet of gorgeous flowers paired with fresh herbs. It's accompanied by an earthenware-style kitchen crock vase she can use later as a utensil holder, a wooden spoon and a blank recipe card so Mom can pass down the secret to a favorite family dish.
The Green Thumb Mom
While some moms love to cook, read or go dancing, your mom was born to garden. Your earliest memories of her consist of sunshine, a watering can, and your mom?s beaming face as she weeded and planted.
Is your Mom a Green Thumb Mom? Take this quiz to find out!
For holidays and birthdays, Mom gave you seed packets and/or gardening gloves. (T) (F)
You?re more likely to find thigh-high mud boots than Manolo Blahniks in her closet. (T) (F)
Your Mom is just as likely to grow tomatoes and basil in her garden as she is to grow watermelons. (T) (F)
Your mother knows which flowers attract butterflies and which ones attract hummingbirds (no internet access required). (T) (F)
Her favorite reality shows feature people re-doing someone?s garden as a surprise. (T) (F)
She doesn?t need directions to get to the local Botanical Garden. (T) (F)
Your Mom puts the ?mint? in every Mint Julep. (For real.) (T) (F)
If you answered ?T? to these questions, you?ve got a Green Thumb Mom!
Great Gifts to Delight your Green Thumb Mom

Cheryl&Co.® Mother's Day Floral Gift Tower
Sweeten your Green Thumb Mom's day with our tower of fresh-baked Cheryl&Co.® cookies and decadent brownies. The delicious assortment arrives in elegant keepsake boxes decorated with a striking flower pattern that will remind her of the garden.

Casablanca Jardinier?
Send Mom a gift that looks like it was just picked from her gorgeous garden--our captivating arrangement of fresh lilies, lisianthus, statice and pittosporum. It's arranged inside a ceramic ?daisy dots? container with lid she can later use to store seed packets or plant food.

Gardening Tote with Azalea for Mother's Day
Our breathtaking pink azalea plant, ?the royalty of the garden,? will make the Green Thumb Mom feel like a queen, especially since it's paired with a reusable pink gardening tote that arrives complete with a trowel and cultivator. A terrific gift combo she'll use over and over!

Tulip Tower of Treats
Gardening lovers will adore our delectable selection of gourmet iced cookies in such seasonal shapes as flowers, butterflies and tulips, arriving in our exclusive 2-tier tower shaped like a fresh tulip plant and flower pot. Tied with a striking lime green ribbon, it's a sweet and delicious way to celebrate your Green Thumb Mom!

Mom?s Gardening Tote
After a hard day of sprucing up the garden, Mom needs to be revitalized! Our stylish gardening tote is a Green Thumb Mom's dream come true, arriving packed with body butter, body mist, shower gel, body lotion and bath crystals, all in the exquisite scent of French lily and cherry blossom, plus rose soap petals, a bath poof and a garden trowel.

Martha Stewart Garden Bouquet
Lavender roses are a symbol of enchantment. Mixed with fresh eucalyptus, heather, waxflowers, and lamb's ears, the bouquet becomes a wildflower garden, and a perfect gift for the garden-loving lady in your life. Also available with a keepsake Matte Silvered Vase, crafted in ceramic reminiscent of liquid silver.
The Planet Friendly Mom
Before anyone even knew what it meant to be ?planet friendly,? your mother was driving her electric car to the local organic market. She loves you, your family, and the world we live in, and she?ll go to great lengths to protect you all.
Is your Mom the Planet Friendly? Mom type? Answer these questions:
She knows what size her carbon footprint is. (T) (F)
When you were a kid, your Mom used to encourage you to use newspaper as gift wrap?again, and again, and again. (T) (F)
She owns a bicycle and rides it everywhere?much to your dismay during your teen years. (T) (F)
Together time with Mom sometimes included creating a compost heap. (T) (F)
Your mother was wearing hemp long before it was fashionable. (T) (F)
Your birthday parties usually involved doing something worthwhile for the planet, like your ?Let?s Clean Trash Together!? 10th birthday party on the local nature trail. (T) (F)
There?s so much baking soda and vinegar being used to clean your house that it?s a shame your Mom doesn?t own stock in it. (T) (F)
If you answered ?T? to any or all of those questions, your mom is a Planet Friendly Mom!
Five Eco-Friendly Gifts for your Planet Friendly? Mom

Fair Trade Certified? Sweetheart Roses - 36 Stems
Mom may be Planet Friendly, but that doesn?t mean she doesn?t like beautiful things! Our stunning 36-stem bouquet of fresh sweetheart roses was produced in accordance with Fair Trade criteria and certified by TransFair USA, the only independent third-party certifier of FairTrade products in the United States. A magnificent and memorable gift that?s also environmentally responsible.

Organic Fruit & Gourmet Tower
Give Mom a gift that towers above the rest in both great gourmet taste and a healthy attitude! Our beautiful organic gift set, packed in an all-natural flax tray, pairs a selection of orchard-fresh organic pears and Fuji apples with rich 100% organic snacks such as cashews, pistachios, chocolate chocolate-covered almonds and more.

Treleela Organic Tea Experience
Planet Friendly Mom will love the superior taste of Treleela? 100% organic gourmet teas. An environmentally and socially responsible producer of 100% organic whole leaf teas, Treleela? cultivates teas on their own family farms and partner communities worldwide. Four fabulous flavors are includes, ready to transform her tea-drinking experience into something unforgettable.

Artisanal Ultimate Cheese Basket
Surprise her with this incredible selection of all-natural, international gourmet cheeses from the experts at Artisanal Premium Cheese. The savory assortment, which also includes delicious crackers and marmalade, arrives inside a stunning linen-lined, reusable willow basket. A magnificent snack sensation every environmentally responsible Mom will love!

Organic Snack Basket
Free Mom from guilt-ridden snacking with this basket of premium 100% organic treats! She'll discover such gourmet organic snack foods as pretzel sticks, spicy brown mustard, chocolate cookies, ginger cookies, herbal tea and more! It all comes packed in a chocolate-brown, lidded woven basket that?s both beautiful and reusable!
The On-The-Go Mom
Your On-The-Go Mom has more stamps on her passport than some foreign leaders. She?s the type of person who loves exploring and seeing things for herself.
Do you have an On-The-Go-Mom? Take this quiz and see for yourself!
Your mom thinks a 10-hour flight is a good way to catch up on her reading. (T) (F)
While other kids wrote about going to summer camp or the Poconos for their summer vacation, your mother encouraged you to write about your spiritual journey to Tibet. (T) (F)
Your family holiday cards usually featured you in a cap with horns, standing in front of the Swiss alps. (T) (F)
Your Mom can take off her shoes and every bit of jewelry she owns in her sleep. (T) (F)
Some people plan their vacations at the last minute. Your mother keeps a detailed itinerary 3 years in advance of all trips. (T) (F)
Your mother has enough frequent flyer miles to travel to Saturn. (T) (F)
You?ve seen the Olympics every four years. In person. (T) (F)
If you?ve answered ?T? to these questions, you?ve got yourself an On-The-Go Mom!
Five Eco-Friendly Gifts for your Planet Friendly? Mom

French Countryside?
If this is the year she can't get to the Eiffel Tower, transport her to France and its spectacular country gardens with flowers! Our colorful arrangement of roses, lisianthus, lilies, sunflowers, stock and more, gathered with style and grace inside a gorgeous cobalt blue glass gathering vase will have her craving Perrier and baguettes!

Fields of South Africa
The vast flower fields of South Africa produce some of the most vibrant, color-splashed Gerbera daisies in the world. Our spectacular bouquet of 15 assorted Gerberas is a striking tribute to the country's beauty, and is accompanied by a burnished, wood-tone vase tied with twine around the rim, a gorgeous keepsake your On-The-Go Mom will cherish.

Barefoot Bake Shop
Send her around the world with this savory selection of gourmet bakery mixes from Ina Garten, The Barefoot Contessa. A handsome brown woven basket includes delicious mixes for brownies, cookies and cupcakes, fudge sauce, Contessa blend coffee and a raspberry spatula, as well as fun Barefoot Contessa note cards she can use to write you from her next destination!

Iced Tea Refresher
Quench her thirst for exotic lands with our gorgeous two-tone pink canvas tote, filled with three tins of gourmet iced tea bags from Harney & Sons®, an acrylic green pitcher and a tin of 16 delicious lemon daisy cookies from Dancing Deer. After she enjoys the delicious all-natural goodies, Mom can pack the tote and head off on another adventure!

Martha Stewart Spring Blossom Bouquet
Like wildflowers that might grow in Martha's garden, varying shades of pink roses, snapdragons, and ranunculus mix with the springtime scent of fresh white freesia. Accompanied by a ceramic Lily Pond Thumbprint Vase featuring a dimpled impression, it's a beautiful gift to remind Mom of taking a drive through the country to view the new blossoms of Spring.