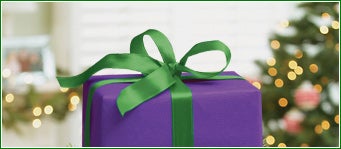 The pressure is on, Christmas is almost here but there's no need to panic! 1-800-FLOWERS.COM® has great solutions to get terrific gifts in a hurry that will still bring joy to their world? and comfort and joy to yours!
The Wait-Until-a-Week-Before-Christmas-to-Get-Started Shopper:
It's 12 days before Christmas and if you're still thinking about partridges and pear trees for your true love, just forget it?there's much better gift ideas you can still find at 1-800-FLOWERS.COM® that they would really love! Is your true love fond of fresh flowers? Send flowers fresh from the fields and picked at the peak of perfection by our expert growers such as Christmas Hope, Winter Wonderland or Starlight Wishes and they'll be thrilled when they receive their holiday surprise.
If tulips are more their style, why not send a gorgeous bunch of 15 or 30 Holiday Tulips or really make their day shine with a Holiday Bouquet and a box of Harry London® Chocolates.
Need a gift that really breaks the mold? Send expert floral designer Julie Mulligan's Holiday Hope or her Christmas in Nantucket and you can guarantee Christmas memories will be created!
For the Plant Lovers, there's still time to create a holiday showplace in their home with our
Shining Holiday Centerpiece
,
our Bayleaf and Berries Centerpiece
or
Shades of Silver and Yellow
that arrives with a stunning miniature rose plant. And what would the holidays be without poinsettias and a tree? Send
Let it Snow Poinsettia
and compliment it with our
Silver Seasons Tree with Skirt
or the holiday scene stealer,
Cypress Tree with Holiday Decorations
.
Gift Baskets are always a great idea and we have several that still can arrive a week before the big day! Our Seasons Greetings to You will cause a big stir when it arrives, as well as our abundant fruit and gourmet baskets that are always a great choice! For the sweet tooth lover, send Junior's Seasonal Cheesecake Sampler, Harry London® Jingle Bell Treats, a Perfect Endings Holiday Cake or delectable Chocolate Covered Strawberries.
If you're looking for a gift to leave a lasting impression, why not send a Yankee Candle Holiday Sampler great for friends and family or a Christmas Stocking Moose, a fun way to say Happy Holidays or "I moose you so much!"
For gifts you want to order from the florist and have hand-delivered to their door for a holiday surprise, there's nothing like our Traditional Tidings Holiday Sleigh arrangement, Bells of Christmas Centerpieceor our Holiday Magic Arrangement. Good things do come to those who wait?but don't wait too much longer! Order now and get your gifts there in time for the holiday!
The-Adrenaline-Rush-Shopper!
You crave excitement and thrills? Well just imagine everyone opening up your gifts under the Christmas tree and all you could find at the mall was canned hams and electric earmuffs! Don't worry! 1-800-FLOWERS.COM® gives you all the fun and excitement you need when you shop online (even if you waited until the last minute)! Imagine your adrenaline rush when you discover you can still send a host of wonderful gifts that can get there the same day you order! You'll be a hero as you sit at the holiday table and gift after gift arrives!
For that special lady we have gorgeous arrangements such as Holiday Rose in Snowflake Planter, Glorious Christmas? or Berries & Bows? Holiday Flower Tree®. For the hostess, send our All-White Centerpiece for their table or our Fields of Europe? For Christmas. For your favorite snacker, Our Elegant Gourmet basket or Fireside Gourmet Hamper basket or Scenes of Winter Tower will make it a tasty holiday season indeed! And finally, for that one who takes your breath away, take theirs away with our Ultimate Holiday Bundle?, 3-in-1 gift combo of a plush animal, candy and gorgeous flowers. But don't delay. Order Now (YES RIGHT NOW) because it's down to the final hours!
The- Past-The-Last-Minute-Shopper!
Okay procrastinator, the good news is 1-800-FLOWERS.COM is always open, even when every other store except the gas station closed. And since giving your Mom a quart of oil and a bottle of windshield wiper fluid isn't exactly the Christmas gift idea she's looking for, you can STILL send her an egift certificate or a gift card, even on Christmas Day. This way, she can pick out what she wants from our host of terrific gifts and have it sent straight to her home and knows you were thinking about her (and not buying her just anything so you could come to dinner).
Last Minute Shoppers A Gift For You:
1-800-FLOWERS.COM® has a FREE Gift Reminder program so that next year you can get ahead of the shopping crowds, buy everything early and spend the rest of the season decking the halls and relaxing with tidings of comfort and joy?now doesn't that sound nice.
Happy holidays from your friends at 1-800-FLOWERS.COM®