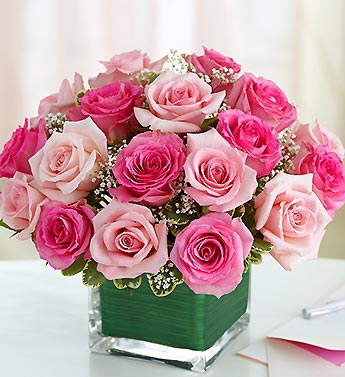 Expressions of Pink?
Mother?s Day Flower Delivery
The doorbell rings and, when you open the door and you?re handed a delivery of beautiful flowers, your whole day changes for the better. Everyone loves to get a delivery, especially when it?s a gift. And, for a mom, the best kind is the arrival of a Mother?s Day flower delivery. When those Mother?s Day flowers arrive, they not only brighten her day with their beauty and fragrance, but they also remind her that her family loves and appreciates everything she does for them every day of the year.
A Special Delivery of Flowers
It?s no secret that the gift of flowers can thrill Mom. Just think about the smile on your mother?s face when she opens the door and sees an original and fun dog-shaped floral creation like the A-Dog-able basket from 1-800-Flowers; this charming pooch is made of beautiful white mums and sits in a basket of fresh spring flowers. There?s no way your mom won?t giggle when she see this little guy. Or you can fill her home with the soothing fragrance and striking beauty of a fresh lavender plant. When it arrives at her door in full bloom from 1-800-Flowers, it will certainly brighten her Mother?s day, and once it?s replanted in her garden she can enjoy the gorgeous color and sweet fragrance all year round. No matter what gifts you choose to give on Mother?s Day, a Mother?s Day flower delivery is a great way to say thank you to your mom for all the kindness and love she has given you through the years.
Shipping Problems Solved
Even with the best of intentions, you might forget to order your Mother?s Day gifts much ahead of time, but don?t worry! 1-800-Flowers will make sure your mom will still get a delivery from you on her special day. Because of our relationships with fantastic local florists all over the country, you can choose from a huge assortment of beautiful flower arrangements, flower baskets, or even a trademark flower cake to be hand-delivered to Mom?s door. 1-800-Flowers can even deliver almost anywhere around the globe through a number of international affiliations. So, no matter whether your mom lives in the next town or half a world away, she can feel like she is close to you on Mother?s Day.
Each year, we take the time to celebrate the women in our lives who have provided, protected, and cared for us in so many ways. Whether this is your mom, step-mom, grandmother, aunt or whether you are celebrating the mother of your own children, Mother?s Day is a day to reflect on everything these amazing women do for us and for our children, and to let them know how much we appreciate them. This Mother?s Day, be sure to give all the moms in your life a flower delivery that?s truly special, because it comes from you.
Shop Mother's Day Gifts
Now that you have all these great ideas, shop now for Mother's Day flowers and gifts from our Mother's Day Gift Guide.