Expressing Congratulations to the New Mom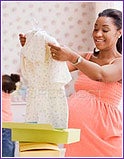 Welcoming a new baby to the world is an exciting time for everyone. In your rush to congratulate remember to follow these simple guidelineswhen you visit a new mom and her newborn.
Give a Call! You should always call before stopping by; never drop by unannounced! Baby could be sleeping.
Keep It Short! 10-15 minutes is an appropriate time to visit a new mom. Longer than 15 minutes may tire out the mom and the baby.
Avoid Mob Scene. Too many visitors at once will overwhelm the new mom and possibly delay healing.
If You?re Sick, Stay Home! The last thing a new mom wants is germs and the chance of catching a bug. If your feeling ill, visit the new mom another day.
Keep It Clean! Unless you?ve washed your hands first, never hold or touch the baby.
Share the Happiness! Although this is a special time in the mother?s life, it is important to keep conversations upbeat.
Make Siblings Feel Special. Consider brothers and sisters and help make them feel special with a gift or a toy. A small surprise makes them feel part of the celebration!