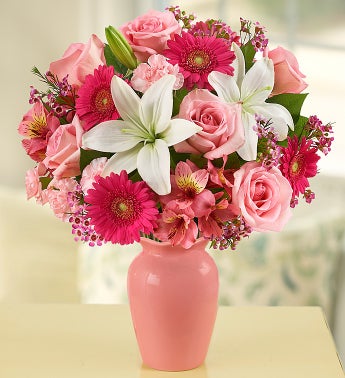 Sentimental Surprise?
Send Mother?s Day Flowers
Though we don?t always remember it, motherhood can be the hardest job in the world. Thank the moms in your life for the amazing work they do this Mother?s Day. When you send Mother?s Day flowers, you not show your appreciation to Mom for doing her best every day, you also celebrate all the great memories that the two of you share together. The comfort after scraped knees, the giant hug after you received your diploma ? it?s all in there. The gift of flowers is a gift of gratitude, appreciation, and joy. Whether you?re celebrating your mom, your mother-in-law, your grandmother, or the mother of your children, a gift of flowers says all the things it?s not always easy to express in words.
With 1-800-Flowers, you can find Mom?s favorite flowers or a mixed bouquet that will thrill her. Fresh flowers from 1-800-Flowers can arrive in a gift box or be delivered by a local florist. Sending the perfect gift is quick and easy for even the busiest person with 1-800 Flowers online. If you?d like to do something different, today there are more options than ever to light up a special mom?s day. Explore our range of gift baskets, plants, and fruits for Mother?s Day.
Choosing the Perfect Flowers for the Special Mom in Your Life
Nothing makes Mom feel more special than when you send Mother?s Day flowers. There is something about having fresh flowers sent from a loved one that makes anyone smile. And, because it?s Spring, the assortment of fresh flowers is particularly gorgeous and varied. Mother?s Day flower arrangements from 1-800-Flowers come in all shapes and sizes. Choose bouquets with gorgeous vases or adorable containers, or pick an arrangement that comes with special extras such as balloons, plush animals, or tasty treats. You can even design your own gift with the items you know Mom loves; for instance, order a striking purple lavender plant and add a lavender candle for a unique gift.
Making Mother?s Day Flower Delivery Easy
You?ll have no excuse for forgetting Mom?s special day this year. 1-800-Flowers.com makes it quick and easy to give the perfect Mother?s Day gift. Never has it been simpler to send Mother?s Day flowers to that woman who means so much to you.
If you typically send Mother?s Day flowers to that special mom in your life, take a minute to consider the expanded gift options you have this year to make Mom feel special and to thank her for all that she does. And if you don?t usually send Mother?s Day flowers, this just might be the year to surprise Mom with a gorgeous gift delivered to her door. Shop 1-800-Flowers.com and make Mother?s Day simple!
Shop Mother's Day Gifts
Now that you have all these great ideas, shop now for Mother's Day flowers and gifts from our Mother's Day Gift Guide.