All of our sunflowers are grown & hand-selected on premier floral farms. We're proud to partner with these trusted growers, who help us deliver the highest-quality flowers to you and the people you care about most.

Alfred P.,
VP of Merchandising
Sun Valley
See what makes this
California farm's
sunflowers so special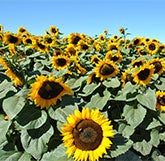 Farm Fresh:
Sun Valley sunflowers are sustainably grown in the sunny west coast climate, which produces thick, sturdy stems with lengths up to 24"+ and brilliant bloom heads that measure up to 6"H.

Flower Fact:
As the sun moves across the sky, the Sunflower in the field turns its head to follow it. That's why the French, "call them "Tournesol" which means "to turn with the sun."