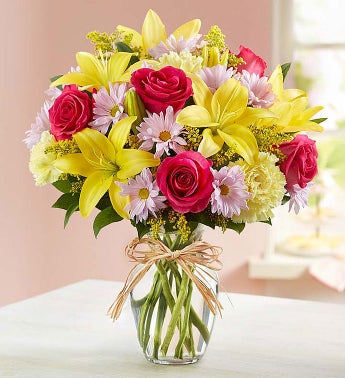 Fields of Europe? for Mom
Mother's Day Gifts
Roses and lilies are not only gorgeous flowers; they?re also wonderful gifts to express appreciation, gratitude and love to someone important. Sometimes, it can be hard to tell our moms how we feel about them, but beautiful Mother?s Day flowers and gifts can tell her for us. Sending your mom a beautiful flower arrangement, bouquet, gift basket, or any other of the gifts from 1-800-Flowers will let her know how very special she is to you.
Great Gifts from Outside the Box
Mother's Day is the third most popular holiday for sending greeting cards, and the holiday ranks second in the purchase of flowers as gifts. If you feel like you've already used all the traditional ideas for gifts for Mom, there?s still time to do some brain-storming and it?s never too early to start thinking of great Mother?s Day gifts. Every mom loves to feel special on Mother?s Day so it?s a good idea to think about what types of things your mom enjoys when you are considering which gifts to get. Everyone appreciates receiving a personal gift that lets them know they are important and loved, so don?t wait until the last minute to decide on the perfect Mother?s Day gifts for all the moms in your life. If your mom is a cook or a baker, you might want to pick a gourmet or baking gift, and if she is a gardener, something for her garden will always be appreciated. Being creative with gifts doesn't have to be tough; you?ll find a wide range of gifts on 1-800-Flowers.com that are sure to brighten Mom's day. But, no matter what your mom loves to do, she will love any Mother?s Day gift you give her if it comes from the heart.
Get Help with Gifts from the Experts
Luckily, 1-800-Flowers is here to take the stress out of coming up with perfect Mother?s Day gifts. All you have to do is click to find dozens of flowers, plants, gift baskets, and other gifts perfect for making the moms in your life smile. From simple and sweet gifts like a fragrant gardenia in a charming hot pink polka-dotted teacup and saucer to elegant and sophisticated gifts like luxurious roses and Cymbidium orchids gathered in a chic glass cube ? and all the gifts in between ? there is a huge range of perfect gifts for Mother?s Day right here on 1-800-Flowers. There are even many different kinds of roses if you want to pick something a little more traditional for your mom.
However, if you are looking for more unique ideas for gifts for Mom, 1-800-Flowers has dozens of those, too. How about sending Mom breakfast in bed? She?ll certainly be thrilled to wake up to a gift that includes gourmet maple syrup, pancake mix, cocoa, and coffee on a fabulous wooden bed tray. For a tea-loving mom, why not pick a gift basket filled with delicious teas and tea-time snacks? And what mom wouldn?t love to receive an enormous, pink satin ribbon-wrapped, white chocolate-covered fortune cookie with a personalized fortune from you?
Putting a little thought and creativity into the gifts you select for the special moms in your life this Mother?s Day will be sure to pay off with big smiles and lots of appreciation.
Shop Mother's Day Gifts
Now that you have all these great ideas, shop now for Mother's Day flowers and gifts from our Mother's Day Gift Guide.