Halloween Safety Tips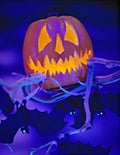 Halloween can be the most fun celebration of the year as long as it is observed safely. Follow these wise steps and get ready to have a frightfully good time!
When it comes to trick-or-treating, make sure children are accompanied by an adult at all times. Older children should walk in groups and everyone should have a flashlight for walking at night.
Avoid unfamiliar neighborhoods and stick to areas you know.
Be smart about choosing costumes. Make sure the face and eyes aren't covered and the costume fits properly to avoid tripping or falling. Don't put a child's name anywhere on their costumes.
Costumes should always be fire repellent. Wear costumes made of cotton and avoid open flames such as candles.
Trick-or-treaters (and their parents!) should inspect all candy when they get home. Avoid suspiciously packaged or unwrapped candy.
Be aware of those around you. Avoid strangers, don't enter strange homes, and trick-or-treat in a group if possible.
Following these safety tips can make sure that everyone has an enjoyable Halloween!