Mother's Day Kids Crafts
Mother's Day Make-It-Yourself Ideas
Let the kids craft Mother's Day gifts for Mom!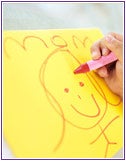 Mom's love to get flowers on Mother's Day, especially when you combine them with something the kids have made! This year let the kids in on the Mother's Day fun and have them create something special just for Mom or Grandma! Here are a few perfect craft/gift ideas from 1-800-FLOWERS.COM!
LEGO® Vase
A child can build a vase by using Lego® or any other interlocking blocks. Place a tall glass or cup on a table and construct a wall of blocks around it. Remove the glass, fill it with water, and place it back inside the block wall. Any flower arrangement will look festive here, especially when you use a variety of colors for the wall.
Mom & Me Scrapbook
Create a simple scrapbook and fill it with photos of you and Mom, Mom and Dad, Mom and the kids, and other memories! All you need is as many sheets of sturdy construction paper as you want, yarn or string, a three-hole punch, tape, and of course some great photos! Punch holes along one edge of the paper, tie the paper together with the yarn to make a book, and add the photos to the pages. Decorate with crayons, pressed flowers, or anything else that adds to the fun!
Apple of My Eye
Use an apple as a "vase" for a few fresh daisies and create a unique and fun gift. Select an apple that stands up nice and straight. Remove the stem. Using a sharp knife, pierce the apple skin at the top of the apple (adult supervision required). Insert daisy poms or flowers with a sturdy stem directly into the apple.