Vase Revitalization!
After giving Mom flowers, give her ideas for reusing the vase!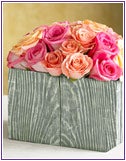 Mom absolutely loved her flowers, but once they fade, what should she with the glass vase or decorative basket the flowers arrived in? Vases can be reused for so many different purposes and add an unforgettable decorative touch anywhere in the home. Make your gift really stand out by suggesting a few of these ideas to Mom:
Don?t Lose Your Marbles!
Fill a vase with clear marbles or glass beads and arrange them with silk flowers for a stunning effect!
Shine On Mom!
Vases make great candle holders. Simply place a pillar inside the vase or tuck it inside pebbles or marbles that you place inside the vase.
Kitchen Cute!
Looking for a great kitchen accent? Simply fill vases with something colorful such as lemons and limes or colorful beads.
Instant Beach!
Fill two vases with sand and seashells and you have two conversation pieces or really fun bookends.
Write on Mom!
Slim vases can be used as pencil holders.
Tisket tasket, put it in a basket!
Here are some great ideas for the now-empty gift baskets Mom has received:
Treat the Family!
Display snacks and treats.


Organize Mom!
Store office supplies.


Put It Away!
Store photos, collectibles and magazine.


Make it a Great Gift!
Unique gift boxes