Earn Points for your Mother's Day shopping! Join Fresh Rewards today.

Celebrate Mom For Who She Is
How do we love the kind of Mom we have...let us count the ways!

There are lots of ways to make Mother?s Day?and every day of the year?even more special for your Mom. Determine her ?mom? style and then make the day as fun as you can! Here are some great ways to make every day extraordinary!

3 Ways to Adore the Gourmet Mom

Maybe Mom is the one who makes every meal spectacular. On Mother?s Day, it?s your chance to treat Mom to some extra special luxury! Here are three great ways to cater to your Gourmet Mom?s taste and style (but don?t forget?clean up is part of the bargain!)

Breakfast in Bed: even kids can help make a yogurt and fruit smoothie, scrambled eggs and toast. Some freshly squeezed orange juice and a bud vase with her favorite flower make a breakfast tray look spectacular. Don?t forget the newspaper so Mom can read while she lounges in bed (for a change).


Brunch for a Crowd: Does your Mom do all the cooking on Mother?s Day? Not this year! Enlist the kids to help you set the table with your best dishes, and have them create a Mom-themed centerpiece with flowers and photos. Then, go online to find dishes that you can cook with a minimum of trouble (recipes for Blueberry Stuffed French Toast, a Southwestern Frittata, Coffee Cake or Banana Nut Muffins can be found online).


Fancy Dinner at Your House: enlist the kids? help with this special treat. Have your children write an ?invitation? to Mom to get dressed up and meet you for dinner in the dining room. Pick Mom?s favorite ?comfort food? (lasagna, meat loaf, even burgers!) and then have the kids help you make the side dishes, appetizers and dessert. Whip up a batch of non-alchoholic Margaritas (again, the internet can help you find recipes) and show up dressed to the nines. The kids can help serve (make sure they have a bouquet to hand to Mom)!



4 Ways to Help the Office Mom Relax on her Special Day

Is it hard for your Office Mom to kick back and relax? Delegation is the key! Dad and kids, follow these 4 Super-Efficient Ways to Make the Office Mom?s Day.

Do the laundry for the week. If Mom spends her Saturday and Sunday catching up on laundry, here?s your chance to do it for her. Remember, folding and putting it away is just as important!


Ditto on dinners. Cook a week?s worth of food and freeze it, so Mom can skip the panic-stricken daily grind of hearing, ?hey Mom, what?s for dinner?? Meatloaf, meatballs, chicken cutlets, baked ziti, pot pies, and frozen pizzas are all great choices.


Do her chores. Remember where the dry cleaner?s is? How about the supermarket? Take over Mom?s chores so that she can remember what it?s like to really relax.


Take her to the movies. When all the work is done, Mom will be ready to have fun. A relaxing day at the movies, the ballpark, or the day spa can really be enjoyed?especially when someone else is making the arrangements!



5 Ways to Make the Red Carpet Mom?s Day

Looking that good doesn?t come easy?it takes work! Here are 5 Quick Tips to Help Your Red Carpet Mom look even more ?diva-licious?!

Brew some Green Tea. Beauty-conscious moms know that this powerful brew contains antioxidants that keep skin looking young. People who drink it regularly have less sun damage than those who don?t!


Give her lots of oranges. Women over 40 who eat 75 mg of Vitamin C a day (the same as in one grapefruit) have 11% less wrinkles than those without extra Vitamin C in their diets


Give Mom a manicure. Studies say that people believe that women whose nails are polished and who wear rings look younger.


Give Mom an at-home facial. Cleanse, exfoliate, moisturize?make sure you have some cucumbers on hand too. Go online to find the best at-home facials for Mom.


Help Mom color her hair. An at-home color job can be a fun way to bond. Here?s a great way to lock in that color: put on a disposable plastic cap and then wrap it in an old warm-from-the-dryer towel. The heat will help color stay true longer (plus it feels great!). Mix a drop of orange or grapefruit essential oil in with the conditioner to keep color going strong.



6 Tips to Make the Planet Friendly Mom?s World Brighter

The Planet Friendly Mom wants to keep our world safe and sound for years to come. Here are a few ways you can share her concerns and make this Mother?s Day beautiful!

Bottle it. A 2-liter bottle makes a beautiful vase for those fresh-picked daisies. Or, cover an aluminum can with a collage cut from a magazine or reused gift wrap to create a beautiful desktop pen holder.


Find Mom a gift with an environmental message. Give her a book about nature made on recycled paper, a refillable thermos bottle, a canvas tote bag, a battery recharger or a solar powered gift instead of battery powered products. Or better yet, ones that require no power at all.


Give her an IOU. Cut down on gifts that Mom might throw away some day by giving her an IOU for services like weeding the garden or cleaning the house.


Plant a tree. Give your Mom a tree-planting kit and together, you can watch it grow (and know you?re doing your part to make the air cleaner).


Buy a carbon offset. Air traffic adds tons of carbon dioxide into the air, contributing to global warming. So when you fly, donate money to a company that invests in projects to reduce carbon dioxide ? like planting trees.


Ride, Sally, ride. Offer to do Mom?s chores by riding your bike around town. Better yet, ask her to go for a daily ride. It?s a great way to bond (for your health and your planet!)



7 Ways to Plant a Smile on Your Green Thumb Mom?s Face

Your Green Thumb Mom loves working in her garden, and you can see why. Her plants and vegetables thrive, the birds sing with joy?and life is great! Here are 7 ways you can make Mother?s Day?and every day?even better for her!

Create habitats for wildlife in Mom?s garden. Bring her a buddleia, Michaelmas daisy or lavender plant to help attract bees, butterflies, and birds throughout the year.


Update her tool kit. Do her garden gloves look older than, well, the garden? Get her a fresh pair, along with new shears or a hoe.


Do the dirty work. Did you know that hand-weeding is one of the most effective ways to keep the lawn weed-free? Get to it!


Mulch. Mulching your garden can reduce your water needs by as much as 50% and will reduce your weeding by as much as 90%.


Share. Go online and tell your Mom about ?green? ways to keep the garden thriving and insect-free.


Invest in a bird feeder. Or, if Mom already has one, make sure to keep it filled with a quality seed blend that will appeal to chickadees, grosbeaks, cardinals and sparrows.


Bring the great outdoors, in. Help Mom brighten up the kitchen with an indoor herb garden. Kitchen canisters crafted from old coffee cans make a great place to start. Drill small drainage holes in the bottom with a power drill, and make sure the planters get plenty of sun. Don't let the soil dry out! Keep favorites within reach: plant rosemary (pork, potatoes), parsley (pasta dishes), oregano (sauces, soups), sage (chicken, vegetables), basil (salads), and dill (fish).



8 Great Ways to Celebrate Your On-The-Go Mom

The On-The-Go Mom loves to explore?whether it?s across the street or around the world! This Mom loves to go at a moment?s notice, so here are 8 ways to make your On-The-Go Mom?s life a little bit easier!

Keep those documents handy. Know where you keep your passport and make sure it?s up to date.


Travel light. Keep travel-sized bottles of shampoo, mouthwash, shaving cream and toothbrushes handy.


Location, location, location. Make sure to let Mom know if you hear about a great new place to travel. Cut out magazine articles or send her links to travel sites when you find something interesting.


Bring the world home. You don?t have to travel to make Mom?s day. Suggest a family ?theme? night, and then cook something from the country of choice. (Example: crepe night for France, Paella for Spain, etc.)


Put it in writing. Show Mom how much those jaunts around the world have meant to you by putting together a family scrapbook so you can relive those fond memories.


Plan a no-cost vacation. You don?t have to spend a fortune in order to have fun. See if you can get cousins or close friends to ?house swap? and you can vacation at their house while they vacation at yours!


Share, share, that?s fair. Get those like-minded friends or family members to go with you on your travels, and split the cost. Renting a villa can be a cost-effective way to travel.


Nurture her sense of adventure. Get her flowers from each country you?ve been to or make ?postcards? of places you want to see together. Travel can be exhausting, but keeping the excitement alive makes it all worth it!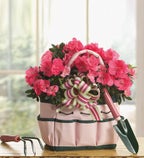 Springtime Gardening Tote
with Azalea
$54.99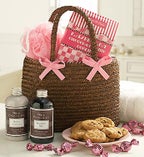 Chocolate Pampering Tote
for Mom
$49.99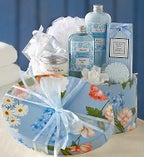 Serenity Spa Gift
$49.99

We asked Mrs. Morgan's 2nd Grade Class to tell us about their Moms. Here are some of their responses.
document.write("
");document.write("My Mom's favorite food is...
");document.write("
");new domticker(tickercontent5, "domticker5", "someclass", 5000, "fadeit");document.write("
");document.write("
");document.write("My Mom is as pretty as...
");document.write("
");new domticker(tickercontent11, "domticker11", "someclass", 5500, "fadeit");document.write("
");For more,
click here
.