The Thanksgiving Symbol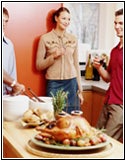 The famous turkey has become the traditional symbol of Thanksgiving, but how did this fowl symbol originate? The turkey was originally taken from the wild and domesticated as a farm animal in Mexico and was brought into Europe in the early 16th Century. Since that time, turkeys have been raised extensively because of the excellent quality of their meat.
Contrary to popular belief, there is no real evidence that turkey was served at the Pilgrims? first Thanksgiving. It is assumed, however, because wild turkeys were mentioned in a book written by the Pilgrims' Governor Bradford. Also, in another letter sent to England, a pilgrim describes how the governor sent "four men out fowling," returning with turkeys, duck and geese. Since that time, the turkey has become the symbol of feasting and giving thanks on Thanksgiving Day.