Trends in New Baby Gifting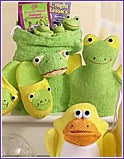 Need a gift for a newborn or soon-to-be born? Finding the perfect present for the new mom and the baby is never easy. Here?s an easy way to make the new arrival?s gift an instant hit!
It?s always a great idea to personalize gifts. Spice up the traditional soft baby blanket, teddy bear, bath robe, etc. by having the baby?s name embroidered on it.
Gift baskets are always welcome at showers or to celebrate the baby anytime! Don?t stick with the traditional? try a modern approach with these exciting ideas!

- Blanket Buddies is an oversized, personalized blanket that is easy to carry, easy to clean, and always there when your child needs it.
- Baby Diaper Cake contains a collection of essential and indispensable gifts for the newborn and gets its cake like look from disposable diapers.
- Burt's Bee Sampler which includes everything needed to give that sweet newborn a soothing bath.
- Bundle of Joy is a delightful gathering of three milk bottles filled with mini-daisy bouquets and a creative way to express your congratulations.

What better way to capture memories of the newest member of the family than a scrapbook? Buy the new mom a scrapbook set so she can begin to store memories from day one.
Soft toys decorated with large black and white geometrical patterns are perfect as a newborn gift. Babies prefer to look at high-contrast edges and patterns so this black and white toy will be loved.