Appropriate Flowers for a Funeral
Helping someone to deal with the loss of a loved one is never easy. Here are some helpful ways to express your sympathy and lend your support during difficult times.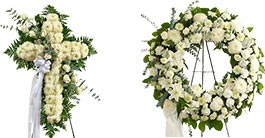 Often sympathy flower assortments available for purchase include larger pieces (intended for the casket) or specialty pieces, such as floral crosses or wreaths. These pieces are generally appropriate to send only if you are a member of the deceased's immediate family. Here is a basic guide to what type of arrangements are suitable, depending on your relationship to the deceased and the family. Please also review our list of religions to determine whether flowers are an appropriate gesture for the denomination.
Immediate Family Sending Flowers to the Funeral Service
If the deceased is an immediate family member, then larger, traditional pieces such as wreaths, hearts/crosses, large floral standing sprays and casket flowers are appropriate. Often, family members as a group send one large piece or a combination of pieces.
Friends Sending Flowers to the Funeral Service
Friends generally send standing sprays or flower baskets that are to be placed on display at the funeral service.
Friends Sending a Sympathy Gift to the Home
If you are unable to attend the services, it is generally appropriate to send a token of sympathy to the grieving family's home. Traditional choices for a sympathy gift to the home include an elegant vase of flowers, a basket arrangement or blooming plant or a fruit, food or gourmet basket.
Coworkers Sending Flowers to the Funeral Service
Professional colleagues will generally send a group gift. An appropriate floral arrangement for the service might be a standing spray, standing basket or fireside basket.
Coworkers Sending Flowers and Gifts to the Home
In most cases, a note or card to the family is appropriate and sufficient to express your sympathy to the family of a deceased work colleague. If you worked closely together, you might send a floral basket arrangement, dish garden or blooming plant. Fruit, food or gourmet baskets are also appropriate and would be appreciated.