Before you know it, the year has flown by and the holiday season is quickly approaching. As kids prepare to come home from college, invites for parties pop up on the calendar, and all the shops start blasting Jingle Bells on repeat, you know it's time to start getting in the spirit. More than anything, it's time to get your house merry with beautiful Christmas decorations. Here are a few ideas to have the most joyful home in the neighborhood and welcome your loved ones with festive cheer.
When it comes to Christmas decorations, it's easy to go overboard. Instead of covering every surface with objects, look for key pieces that will instantly cheer up a corner. With its red and white hues, this arrangement adds the perfect balance of color when placed on your living room's coffee table. In addition to its festive flowers, the painted pine cones add a wintery feel. Step up the look even more by using some leftover wrapping paper for any small boxes you have laying around and placing them close-by as miniature gifts. This piece is perfect for small apartments and those who are skipping a big tree this year, but still want a jolly home.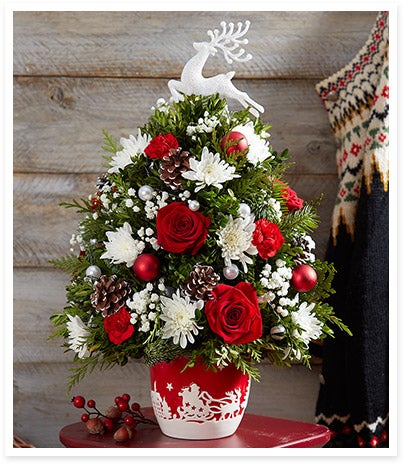 Nothing spices up the aesthetic of your decor like unique & fun flower arrangements. Cocktail glasses are a fun twist on traditional vases and add elegance to any tabletop. If you have a bar area, incorporate one of these among the liquor tray so everybody will feel the merry spirit while helping themselves to some eggnog or festive beverages!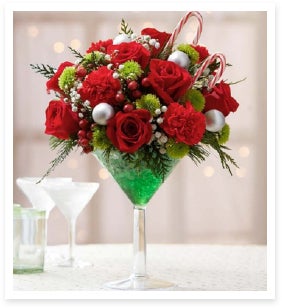 If you prefer a more rustic look to your decorations, brighten up your home with a hand from Mother Nature. This richly adorned wreath combines various natural elements such artemisia, tallow berries, pinecones and thistle on a eucalyptus and fir base. Place it over your fireplace and bring the holiday sparkle inside. Finish this look by placing garland over your mantel with fresh greens and a few glass pieces for a simple yet whimsical setting.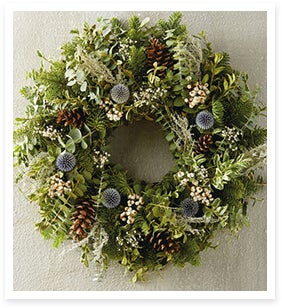 A stand out wreath is great for those who would like to make a statement, inside our out. The faux in-season fruits such as berries, apples and orange slices, as well as magnolia leaves make for a striking effect, especially in the dining room. This merry color scheme will complement warm toned houses with perfection. Make sure to keep your other Christmas decorations neutral so that the piece can stand out for its beauty! To go a step further, light a fruit and clove candle to bring in all the homey holiday scents.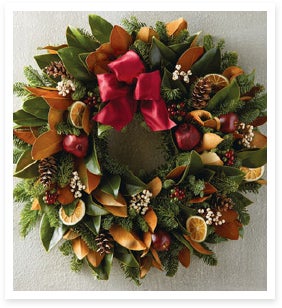 If you want a more traditional Christmas look, you will love this one. The red and silver ornaments help your door sparkle while still allowing for the gorgeous green base to catch your eye. A heart-warming addition is the little chalkboard sending festive wishes to anyone passing by. This joyful wreath is a sure way to leave your neighbors gushing over your friendly spirit. You can bring the fun inside and incorporate same-colored ornaments by dangling them on your chandeliers or adding them to vases. Your home will look like a Christmas movie-set!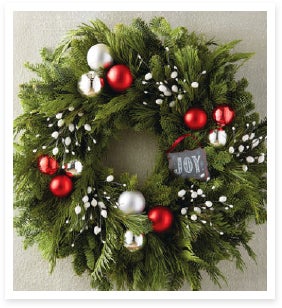 Those looking for subdued elegance might prefer a cleaner look. These tiny yellow ornaments give the impression of golden lights. The branches are stunning on their own, so just by adding a few small details and a rich golden bow, your front door will be ready for Santa's visit. Instead of the traditional garland along the staircase, you can innovate by placing a few of these wreaths along the banister for a stylish entrance.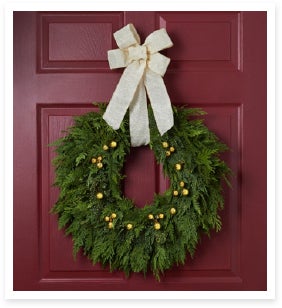 Entertain in style by creating a magical holiday table with our Golden Lights Centerpiece. Soft lighting is essential for the Christmas dinner, so make sure you are well-stocked on candles. In place of the old candlesticks, adorn your table with a mix of natural elements and sparkly decorations. Maintain the theme with white plates and gold rimmed glasses for a lavish look. You can even scatter a few small ornaments throughout the tabletop. The best part is that a centerpiece like this is versatile enough to be used for the New Year's Eve meal as well!