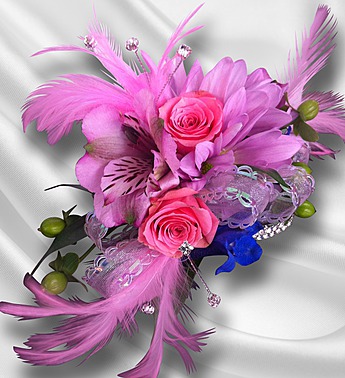 A true fashionista knows that's it's the smallest of details that can have the biggest impact; This is especially true for prom when all of the belles of the ball are competing for best dressed! Here are some of awesome and inspiring prom corsage ideas to take that prom ensemble above and beyond.
Keep it Cool with Contrasting Colors
Make a statement by adorning a bold and eye-catching corsage in complementary colors to your wrist. Opt for one warmer, lighter shade mixed with a vivid and cool pop of color or choose colors opposite each other on the color wheel (classic combinations include shades of orange and blue or yellows and purples). If you're really looking to make a statement, add a third pop of color in careful amounts.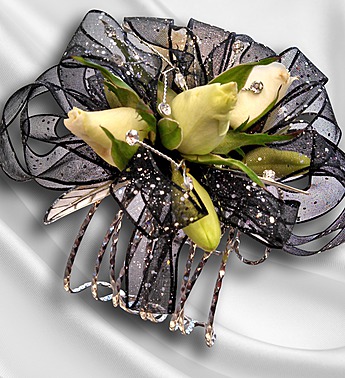 Alternatively, black and dark silver looks stunning with practically any color. Use the darker shade for the bottom layer and pair with a vibrant shade found in your dress for the perfect head to toe look! For a less dramatic look, consider swapping the darker shade for a pastel hue and pairing with a white or light yellow flower.
Girly Yet Glamorous with Hot Pink
There's just something about hot pink that really makes an outfit pop. Whether on its own or paired with almost any color, this vibrant hue demands attention and brings energy into any ensemble.
A hot pink corsage goes beautifully with almost any dress color or design. Whether you are planning to wear a dark colored dress or a vibrant piece with an assortment of colors, hot pink will create a stunning focal point to bring the whole outfit together.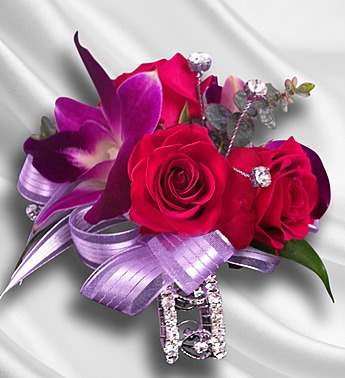 Magnificence in Monochrome
While vibrant hues and pops of color demand attention, keeping it simple yet sophisticated with monochromatic colors is just as stunning. Stick to shades similar in hue yet varying in texture to create a wow-worthy piece like our Sugar Bracelet Corsage, which sticks to white roses with sheer embellishments for an irresistibly sweet design.
When choosing a monochromatic corsage design, be sure the nail polish color and design you choose for your prom manicure will flow seamlessly together with the wrist piece.
Dazzle with Original Design
Put a modern twist on tradition by swapping the traditional corsage with a trendy wristlet piece like our Succulent Wristlet Corsage (pictured). Rather than a simple wristband, request a more eye-catching bracelet combo for a truly unique corsage idea.
Take the fun even further by actually decorating the wrist piece with floral embellishments or small accessories!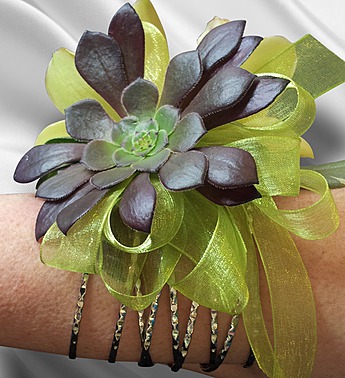 Flaunt Some Country Charm
Let your country side shine through with bright yellow sunflowers to add a pop of color to your prom ensemble. Or, choose mini Gerberas for another unique countryside look!