The 1-800-FLOWERS.COM Interns volunteer their time and effort to the Imagine the Smiles campaign. Chris Hopkins, a Marketing Intern here, shares his view of the experience of creating floral arrangements to be donated as part of the initiative, complete with coverage from Newsday: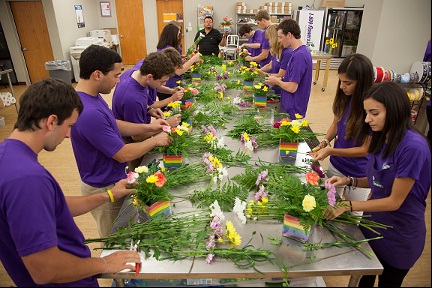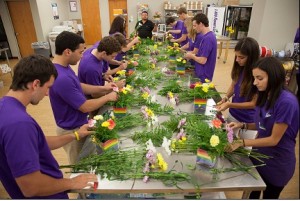 "In the July 30th issue of Newsday, an article was published about 1-800-FLOWERS.COM Imagine the Smiles and 2012 Summer Internship programs. The reporter, Keiko Morris, and photographer, Audrey Tiernan, tell the story through the lens of our interns learning to make floral arrangements for the West Nassau Dialysis Center as a part of Imagine the Smiles. The newspaper came to our corporate headquarters in Carle Place, NY to interview our bright and talented interns, as well as a few other employees, about these two important aspects of the 1-800-FLOWERS.COM brand.
The Newsday feature explains the importance of Imagine the Smiles to the company and how it aligns with the company's values. It's a real-life demonstration of organization and among the employees. The article explains the origins of the charitable program, one that started several years ago when a group of employees volunteered their time to fill a hospital room with flowers for a once-blind patient recovering from reconstructive eye surgery.
We really enjoyed the experience of having Newsday come to the office and photographing us (the interns) making floral arrangements. Even though the majority of us were amateurs in floral design, it was a rare and valuable experience to have with the media. But more than that, we got to actively take part in an activity to better our community, a truly rewarding experience for us."