A Guide to Prom Flowers, Corsages, and Boutonnieres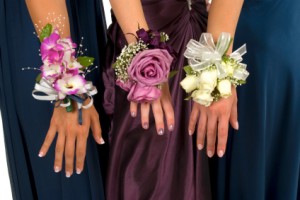 Prom is that magical day high school girls have fantasized about since the beginning of freshman year.  Much like a wedding day, prom is all about the girl and making her look perfect from her hair and makeup, down to her beautiful gown. It is no surprise that the boys dread the task of picking out the perfect corsage to add that special touch to the perfect day. Fear no more with this helpful guide on how to pick the perfect prom flowers!
What is a Prom Corsage and Boutonniere?
A corsage and boutonniere are small flower arrangements exchanged among dates for dances. A corsage is centuries old, and actually is derived from the French phrase, "bouquet de corsage," which means, "bouquet of the bodice." In the past, it was believed that flowers and herbs warded off evil spirits. Because of such an ancient superstition, corsages were worn to weddings as part of a tradition of fostering good luck. The modern corsage used today originated in the 20th century when young men would bring a bouquet of flowers for the family of the lady as a thank you for letting him take her on a date. Continue Reading…