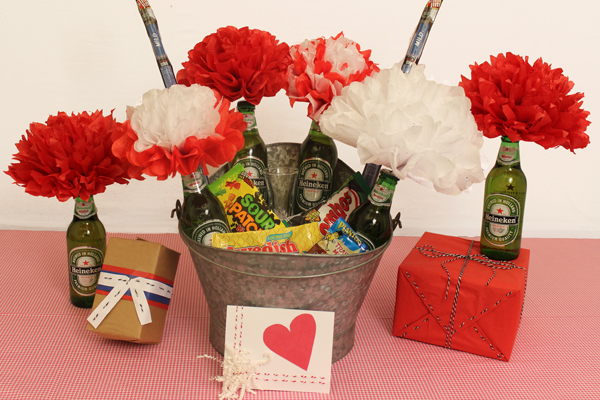 Ladies, let's face it: Men don't look forward to getting flowers on Valentine's Day as much as we do. So how's a girl supposed to show her guy that she cares?
Make him a personalized man bouquet instead! Grab a few of his favorite macho drinks and snacks, toss 'em into a heavy-duty bucket (he can reuse it later) and you have a DIY Valentine's Day gift idea that your husband, fiancé, boyfriend or dad will really LOVE!
Materials You'll Need to Make a DIY Man Bouquet
Large galvanized bucket*
6-pack of your man's favorite beer (or other alcoholic drink)
2 or 3 empty cardboard boxes
Tissue paper
Floral wire
Scissors
A few of your dad, boyfriend or husband's favorite snacks
Filler paper
*If you want to make a larger-than-life bouquet, use a water cooler instead of a bucket. That way, he'll have a place to store all those bottles of booze!
How to Make a DIY Valentine's Day Man Bouquet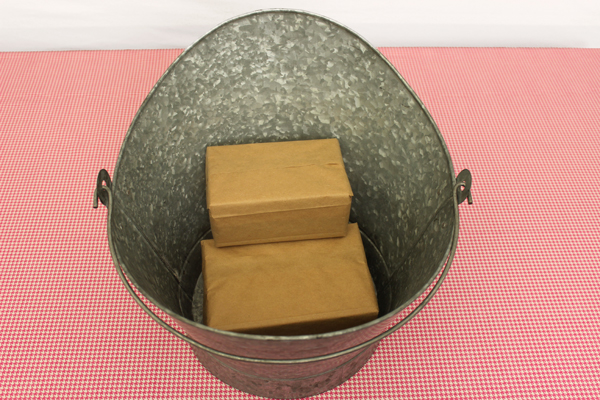 Place the empty cardboard boxes into the bucket. The boxes should be small enough to fit into the bucket but large and sturdy enough to support all the goodies you're going to put in your bouquet. Stack the boxes flat and in a tiered fashion, with the highest point being the back center portion of the bucket. For even more stability, use masking tape to attach the boxes to the bucket.

Fill the bucket up to the rim with filler paper, making sure to completely conceal the cardboard boxes.

Follow this tutorial and make six tissue paper flowers in the color pattern of your choice. Red and/or white tissue paper works nicely for the Valentine's Day theme—without being too feminine. (Steer clear of pink!) Tip: Make some extra flowers and use them to top off your other Valentine's Day gifts, like we did here. Continue Reading…