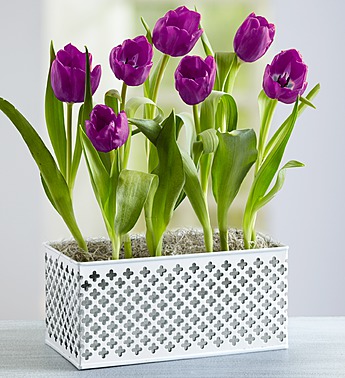 You know it's spring when those long, lovely tulip stems start peeking out of the ground! There are more than 1,000 different tulip species, and each of them brings its own touch of charm to springtime. In fact, so many species exist that scientists have grouped them into 15 main categories of tulip types, just to keep them in order! So in honor of our Tulip Spectacular, we're celebrating the warmer weather by picking our six favorite tulip types. Read on to find out what makes each category of these spring blooms beautiful and unique!
Tulip Type No. 1: Single Tulip
The beautiful simplicity of these tulips is what makes them a favorite among gardeners and florists all over the world. In fact, our floral designers at 1-800-Flowers.com use Single tulips to create all of our spectacular tulip arrangements. Whether they're solid-colored or bicolored with two contrasting hues, these flowers bring a bold pop of color to any home or garden. They can be found in virtually any hue, including red, yellow, orange, pink, purple, blue, white and black. We love the gorgeous, deep color of the purple tulip so much that we even chose it as our signature flower!
Single tulips come in two varieties: early-blooming and late-blooming. Early bloomers start to spring up in late Mach and can grow up to 17 inches tall, and each flower can expand up to 3 inches wide. On the other hand, Single Late tulips typically bloom in May and can grow up to 30 inches tall, with a 3-inch-wide flower. Some of the most popular Single Early tulips include the Purple Prince, Diana, Prince of Austria, Cardinal Rampolla, Lac van Rijn and Keizerskroon. For Single Late tulips, favorites include the Antoinette, Blushing Lady, Queen of the Night, Avignon, Dreamland and Zomerschoon.
Tulip Type No. 2: Double Tulip
These tulips are double the fun! They come in pairs, and they have more than twice as many petals as the Single variety. They have so many petals that they're sometimes called Peony-Flowering tulips because their full blooms look so much like pretty peonies. Because they're so large, Double tulip blossoms are long-lasting, but they can also easily snap in bad weather. Staking is sometimes a must, especially during strong wind and rain.
Like their single-bloomed siblings, Double tulips exist in early and late varieties. Double Early tulips show off their blossoms in early April and grow up to 15 inches tall and 3 inches wide. Double Late tulips appear later in the season, around May, and can reach 24 inches in height. Some of the most beloved Double tulips include the Angelique, Peach Blossom, Uncle Tom, Orange Princess, Yellow Spider, Montreux, Crispion, MountTacoma, Miranda and Boule d'Or.
Tulip Type No. 3: Lily-Flowering Tulip
The most feminine of all tulips, these tall, curvy flowers are named for their lily-like shape. Their blossoms are narrower in the middle, and their long, pointy petals curl outward at the top. When they fully bloom, they form a star shape, just like the lily. Lily-Flowering tulips can reach a height of 24 inches, and they can come in any combination of pink, purple, peach, red, orange, yellow and white. They typically flaunt their full-bodied beauty in late spring, around May. The trendiest Lily-Flowering tulips are the Ballerina, Ballade, West Point, Mona Lisa, Holland Chic, China Pink, Tres Chic and White Triumphator—fitting names for such graceful and stylish flowers!
Tulip Type No. 4: Fringed (Crispa) Tulip
These tulips call for a celebration! Their fun, fringed petals make them look like adorable little party hats. The frayed edges of this flower can be either the same color as the rest of the blossom, or they can sometimes have their own exciting color that contrasts the petals. Their blooming season is usually in late spring, and they can reach up to a whopping 30 inches in height. The frilliest, best-loved varieties of the Fringed tulip include the Curly Sue, Fancy Frills, Fringed Elegance, Burgundy Lace, Cummins, Hamilton and Lambada. Continue Reading…