Delicious Health Food From Mother Nature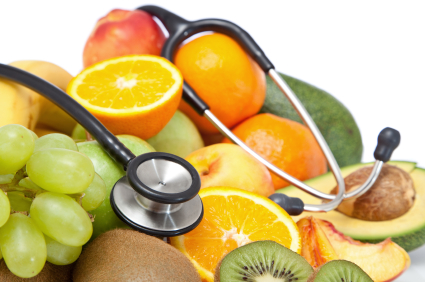 Put down that cupcake! If you're in need of a snack that satisfies your tummy and your health, swap the sugar for a piece of fruit. These juicy little treats don't just boast low calories and no fat; they're also crammed with vitamins, minerals and endless health benefits. And not to mention the big, delicious flavor that comes in such a tiny package! Find out just how good your favorite fruit is for you with these fruit nutrition facts, courtesy of the U.S. Food and Drug Administration (FDA).
Strawberry Nutritional Information
It's no wonder that everyone's favorite fruit is shaped like a heart: Strawberries protect your ticker, lower blood pressure and increase your HDL ("good cholesterol") levels. Their high levels of the antioxidants called polyphenols also guard against cancer. In fact, strawberries are one of the top 20 fruits with the highest antioxidant levels. Plus, one serving of these plump berries has more vitamin C than a whole orange—the perfect pick-me-up for your immune system!
Serving Size: 8 medium strawberries
Calories: 50
Sodium: 0 mg
Potassium: 170 mg (5% DV)
Carbohydrates: 11 g (4% DV)
Fiber: 2 g (8% DV)
Sugars: 8 g
Protein: 1 g
Vitamin A: 0% DV
Vitamin C: 160% DV
Calcium: 2% DV
Iron: 2% DV
Pineapple Nutritional Information
This tropical fruit isn't just a great treat for a summertime barbecue or a day at the beach. It also helps keep your bikini body in ship-shape all year round. Pineapples are high in manganese, a mineral that helps maintain your body's muscle tone, nerve health and bone strength. They're also loaded with an enzyme called bromelin, which supports digestion and promotes healing.
Serving Size: 2 3-inch slices of pineapple
Calories: 50
Sodium: 10 mg (0% DV)
Potassium: 120 mg (3% DV)
Carbohydrates: 13 g (4% DV)
Fiber: 1g (4% DV)
Sugars: 10 g
Protein: 1 g
Vitamin A: 2% DV
Vitamin C: 50% DV
Calcium: 2% DV
Iron: 2% DV
Orange Nutritional Information
Although they're most famous as a source of vitamin C, which strengthens the immune system, oranges are also a powerhouse of other health benefits too. They're rich in pectin, which lowers LDL ("bad cholesterol") levels, safeguards the colon and aids in weight loss. Their bundles of different minerals keep heart rate and blood pressure under control, and their high antioxidant levels also keep your skin and vision healthy and help battle cancer. Is there anything oranges can't do?
Serving Size: 1 medium orange
Calories: 80
Sodium: 0 mg (0% DV)
Potassium: 250 mg (7% DV)
Carbohydrates: 19 g (6% DV)
Fiber: 3 g (12% DV)
Sugars: 14 g
Protein: 1 g
Vitamin A: 2% DV
Vitamin C: 130% DV
Calcium: 6% DV
Iron: 0% DV
Honeydew Melon Nutritional Information
In addition to being a sweet, cool refresher for a hot and sunny day, honeydew melons also revitalize your health. They're a great source of B vitamins, which help your body get rid of toxins and reduce your risk of heart disease and Alzheimer's disease. Honeydews are also high in copper, which encourages skin and muscle repair. Plus, they help keep your metabolism in smooth working order and keep your blood pressure in check. New snack, new you!
Serving Size: 1/10 medium melon
Calories: 50
Sodium: 30 mg (1% DV)
Potassium: 210 mg (6% DV)
Carbohydrates: 12 g ( 4% DV)
Fiber: 1 g (4% DV)
Sugars: 11 g
Protein: 1 g
Vitamin A: 2% DV
Vitamin C: 45% DV
Calcium: 2% DV
Iron: 2% DV