Halloween is arguably the most DIY friendly holiday. Between costumes for kids and adults, décor and spooky-inspired parties, the options are endless!
DIY Halloween Candy Vase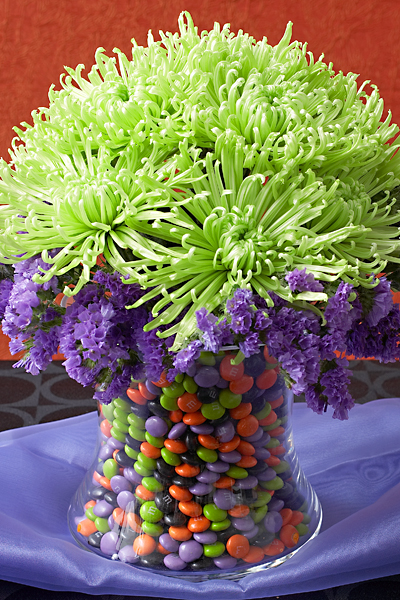 Personally, I love the purple, lime green, orange and black combination for the holiday, so when I saw Halloween M&M's in the store, I immediately bought a few bags. Just another reason to buy candy!
To create this look, I used a nested vase, which allows the filler to rest between the walls of two containers. You can make your own by putting a narrow vase or glass inside of another large glass container. Ideally, you would want both glasses to be the same height, but if not, the inside glass can be slightly shorter than the outer one. For the floral, I used shamrock spider mums and purple statice. Not only do they look great, but both flowers are hardy and will last about two weeks.