Celebrating doesn't have to stop while in quarantine! No matter which holidays you observe, there are endless ways to get festive. Our new series, Home for the Holidays, shares the positives of celebrating virtually, tips on keeping your traditions alive, and creative decorating ideas from designers and hobbyists. Get ready to make this the best holiday season yet!
When the menorah oil in the Jewish Temple lasted for eight days instead of just one, it was considered the great miracle of Hannukah. When the COVID-19 pandemic with a two-week infection cycle lasts for nearly a year, it can take away from the meaning of the holiday season. But, we can still find ways to celebrate Hannukah while being COVID-safe and responsible. Below is our ultimate guide to having the best socially-secure Festival of Lights stimulus gelt can buy.
Get lit, virtually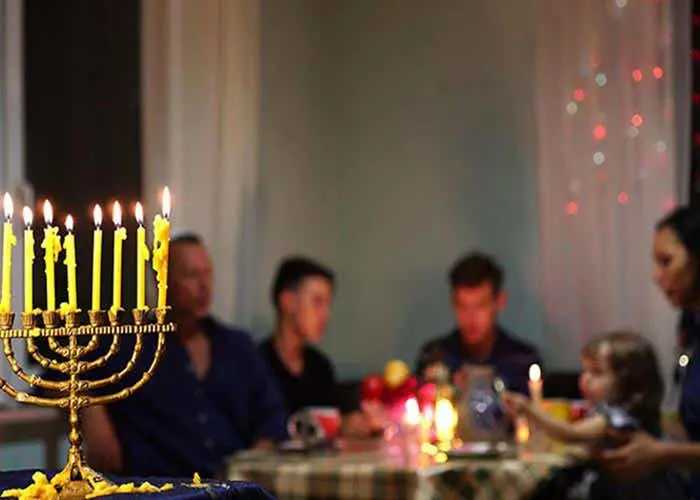 Just because there are fewer people walking around doesn't mean you can't put a menorah in your window to show the world that there are eight bright reasons to cheer up! Hanukkah is the perfect time to gather the family around the bright candles and feel connected to each other.
Alternatively, you can show off your Hannukah-from-home skills by lighting up a virtual menorah. You can even select candle color and burn duration. We're not sure if you can set it as your Zoom background, but it's worth a try, right?
Dreidel, dreidel, dreidel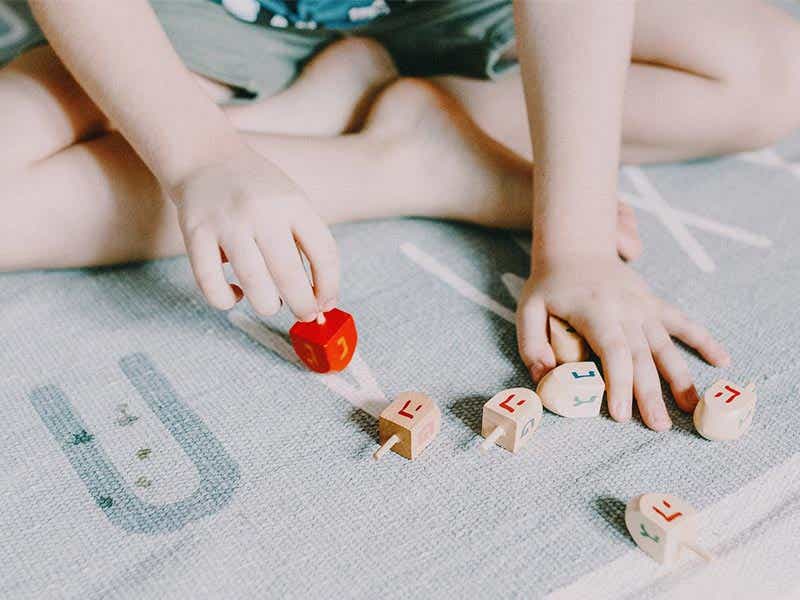 Speaking of going virtual for Hannukah, everyone's favorite gambling-for-chocolate-money game has been made into an app. So, spin that dreidel with your friends wherever they are! The top one for Android is appropriately called Droidl and can be played by two to four players (it even keeps the score of your virtual winnings). And Apple has Dreidl Arena, which looks well-decked out in full 3D. So put aside Fortnite, Among Us, and Candy Crush and spin that dreidel!
Dress up in Hanukkah style
The best thing about working from home is getting a lot of leeway with your dress code. But why not use that as an opportunity to bring a smile to your co-workers' faces? There are so many Hanukkah-themed socks, t-shirts, ties, and "ugly" sweaters to spread the holiday spirit!
Doughnuts for dinner? Yes!

Put away that salad fork, we're having fried things with plenty of oil tonight (and for the following seven nights). Hanukkah gives you the perfect excuse to eat sufganiyot (the best version of a doughnut) and latkes (the best version of a potato) with zero guilt and so much enjoyment. Don't forget to try our Kosher Fruit & Sweets Gift Basket and our Hanukkah Cookie Box!
Eight days of surprises
For a holiday that's all about miracles and surprises, you have the perfect chance to surprise friends, family, and colleagues by sending them a reminder about how much you care about them. Shop our Hannukah collection for thoughtful flowers and gifts including our Kosher Gourmet Sweets and Savories Gift Basket, our Blue Enamel Menorah Candelabra, and our Floral Spinning Dreidel.
Light up the lives of your loved ones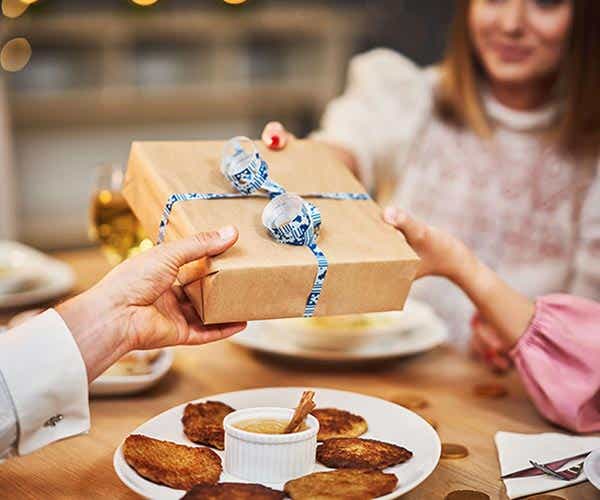 Bright, delicious, and fun, there is no reason for Hanukkah to slow down for COVID. With a bit of creativity and all the magic of online shopping, you can create the best Hanukkah experience ever for yourself and anyone whose eight days you want to brighten.
Let's face it, a lot of people could use a smile. Plus, if you feel at all disconnected during this year's Hanukkah celebration, remember that there are four Adam Sandler Hanukkah songs to remind you that we're all in it together.
So, let's have eight crazy nights full of light, joy, and connection. Maybe even think about one person whose day you want to brighten for each night of Hanukkah and send them something special. You are the light!