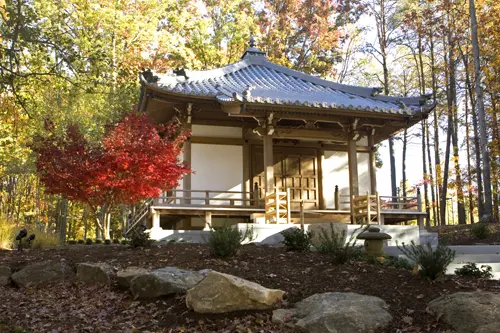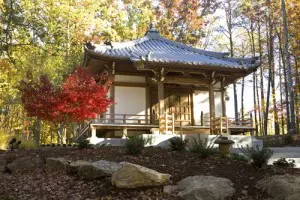 Furman University Asia Garden brings an Asian feel to Greenville, South Carolina. The university's Asia Gardens feature authentic Asian horticulture. The university has an exchange program with Kansai Gaidai University in Hirakata, Osakawa, Japan which is how they are able to obtain these plants. It was originally referred to as the Japanese Garden but recently changed its name to Asia Gardens because it has plants from the entire continent, not just Japan.
One of the most unique aspects of this garden is the Place of Peace that overlooks the Asia Garden. The Place of Peace was a former Buddhist temple that was sent over to Furman from Japan in 2008. The temple was disassembled into 2,400 pieces in Nagoya, Japan and then shipped across the Pacific Ocean. It was then reassembled at Furman in 2008. It is used as an educational tool for the university's Asian Studies Department and is the symbol of the university's strong commitment to sustainability. The temple is always available for viewing but is not always opened; on Saturdays and Sundays it is opened by trained docents and then is open to the public.

The garden surrounds a peaceful pond that is surrounded by Japanese irises and other bog plants that help to enhance the water quality. The Asia Garden also includes rare bamboo, oriental cherry trees, camellias, and other uncommon and unique plants from the continent.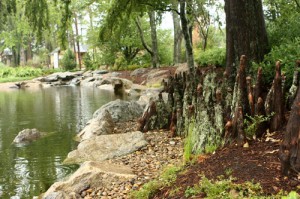 It is rare to find such a particular type of garden on a college campus which makes the Asia Garden at Furman so special. The garden is a great escape for students to relax and enter a more productive and peaceful state of mind.
Source: //www2.furman.edu/Visitors/Visitors/Pages/default.aspx