Your tulips are bursting forth from the ground, or maybe your fall rose bushes are in full bloom. Of course, you want to capitalize on this sudden emergence of natural beauty springing up around you and snip a few choice blossoms to keep around the house. Or perhaps you've received several bouquets and want to create a combined look for your entryway. But you want to do your precious petals more justice then just throwing them in a vase and calling it good. So, how can you keep your floral cluster vibrant for a week or longer and make it a bit more eye-catching?
You're ready to take flower arranging to heart. Betsy Karetnick, founder of The Portable Garden, has taught thousands of people how to arrange flowers, first hosting radio shows on SiriusXM for Martha Stewart and later joining Alice's Table, where she hosts virtual workshops. (All Alice's Table events include a kit so you can participate).
Here are nine of Karetnick's best tips on how to create your own distinctive arrangements that will look beautiful in your home — and last.
1. Think ahead
Before you gather your flowers, think about the spots in your house where you want to add color or interest. Do you have an empty mantel? The height and shape of your arrangement will depend on placement. Also, consider the vases you'll use, as that will dictate how many flowers you need.
2. Choose your palette
In a home with neutral colors, your floral palette options are as varied as nature. On the other hand, if certain colors stand out in your home décor, your flowers can enhance them. With a deep green velvet sofa, for example, you might choose light, pastel flowers to create contrast on a coffee table.
Complementary colors often work well, too. Remember that it's not boring to stick with one color — red roses would complement your green couch. You might try several kinds of red flowers and play with texture. "It's sometimes easier to pick flowers if you're working monochromatically," Karetnick says.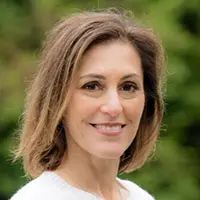 Now, looser-style arrangements that create balance are very in vogue.
betsy karetnick
Founder, The Portable Garden and Alice's Table host
3. Know your vase
A classic cylinder vase with a thin neck is simplest. "I always say, try to keep the diameter of the vase a little bit smaller. It'll save you money, because you'll use less flowers, and it will save you angst, which is even better," Karetnick advises. Square vases require more skill on the flower arranger's part.
4. Give your blooms a bath
Skipping preparation is a common mistake. Your flowers need a bath when they arrive in your home. Well-hydrated flowers last longer. "When you get flowers, they've already traveled from somewhere, even from your own backyard," Karetnick notes. They've begun to dry out, and the stem has formed a scab where it was cut. "A dry stem can't drink," she explains.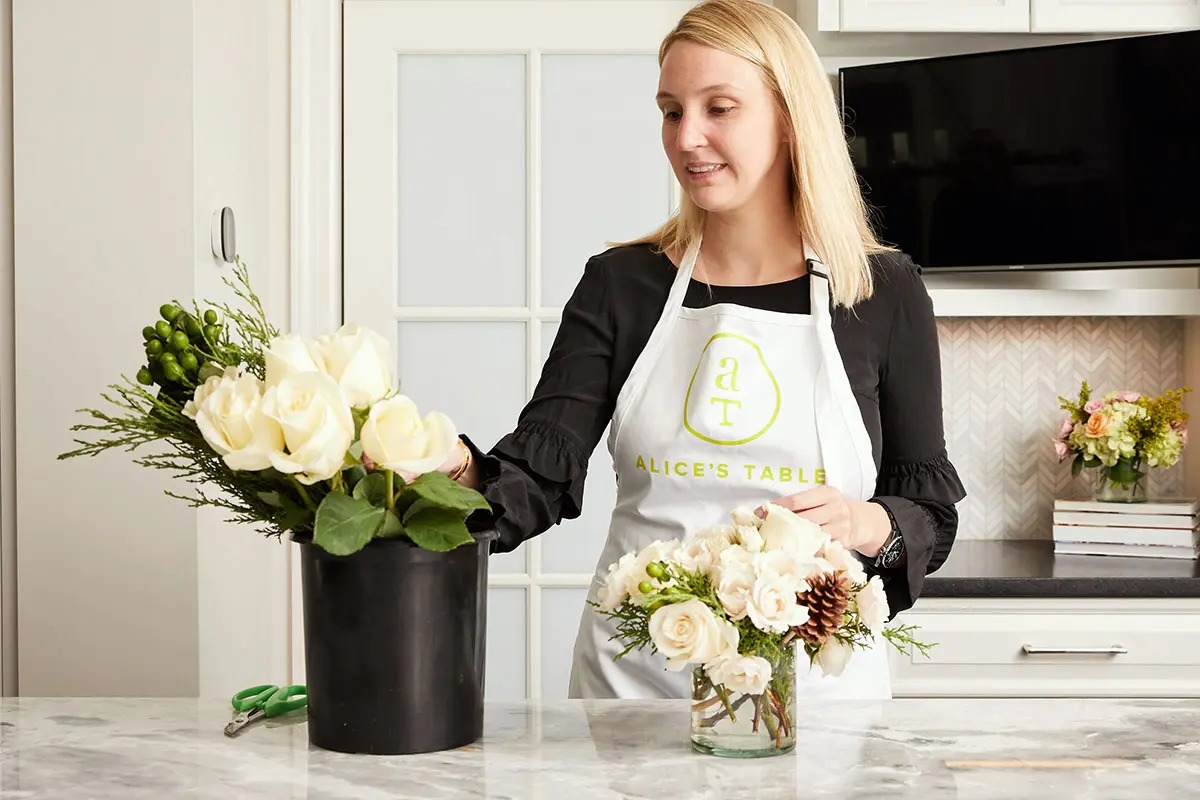 You may have heard the advice to cut at least a couple of inches from the stems, at an angle. This step allows the flowers to absorb water. For cutting, Karetnick recommends an ARS bypass shear. "You'll buy one for your lifetime," she says. The precise, sharp cut promotes hydration.
Florists often submerge all their flowers in a bucket and cut them under the water. Dilute flower food into the water and let the stems drink for at least an hour, or even overnight. Tap water is fine, as long as it's room temperature. When you're ready for flower arranging, use a new packet of food and water for the first day. "Once they're really hydrated, they're very forgiving," she notes.
Roses and hydrangeas can be especially tricky and may need as much as 3 to 5 inches cut. For most arrangements, the water should fill at least two-thirds of the vase. For flowers with straw-type stems, such as tulips, use less water or the stem may disintegrate quicker.
5. Keep them hydrated
Water evaporates, so add new water daily. After two or three days, "I will take the flowers out and hold it like a bride bouquet. Swish off the container to clean it with fresh water, and add new room temperature water. I don't add more food. And I will put the flowers back in and, if I have time, I'll give them a quarter-inch snip at the bottom so they're drinking with a fresh cut," she says.

If you have tight blooms that haven't yet opened fully — and some sunlight — you're in luck. These blooms will flourish if you put them in last, higher up. In the next days, they should start to open.
6. Location, location, location
You knew where your vase would go — and now, with arrangement, you can make the most of that spot. On a side table or coffee table, aim for more width, roughly twice as wide as the vase. For a dinner table vase, put your elbow on the table and create a right angle. If your arrangement is below the top of your fingers, it will be below eye level and people can see each other across the table.
To add drama, put a tall vase in an entryway or a corner of a desk — but plan ahead when you are cutting the stems. In a 5-inch container, you need stems that are at least 7 inches long.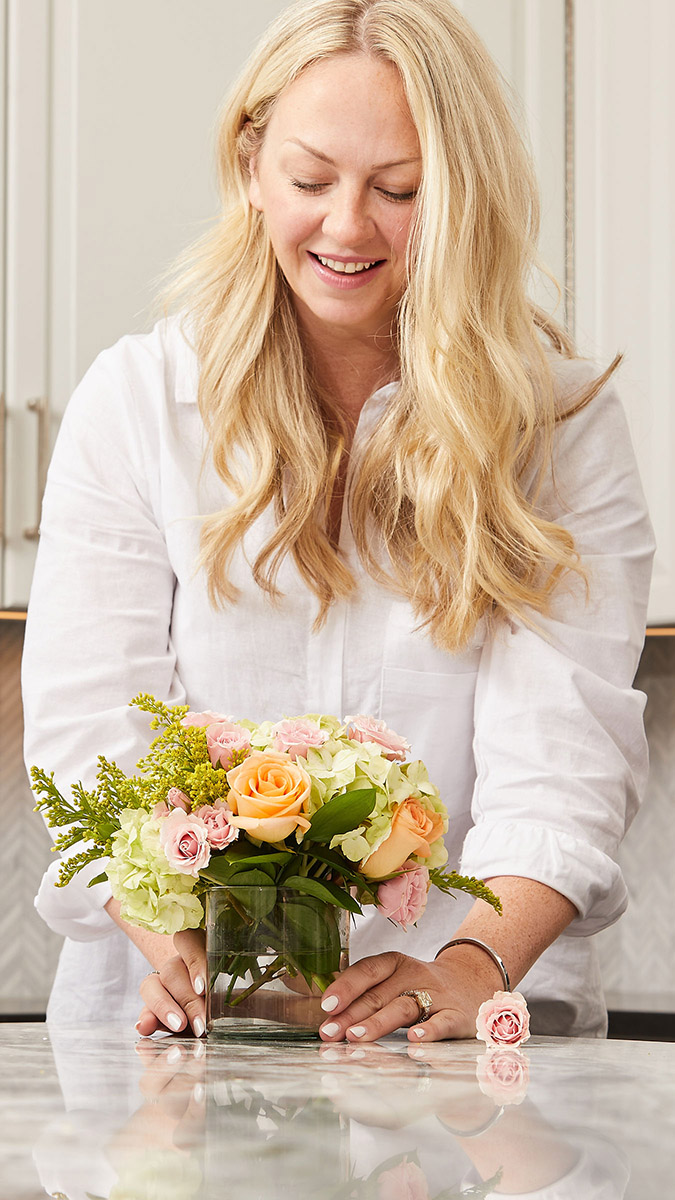 7. 360 degrees or front facing?
Keep in mind the angles from which your flowers will be seen. Turn the arrangement around as you work. If you are filling a spot against a wall or mantel, with a vase only visible from the front, use taller flowers in the back to create a cascading effect as the eye travels downward. In a front-facing arrangement, use fewer flowers. Good news: You might have enough for a second vase!
8. Aim for balance
A bouquet with one kind of flower can be lovely: No two flowers are alike. Put a bloom of similar size on both sides to create balance. But you can use as many as five or six varieties, creating balance by size and with color, using, for example, red flowers on each side.
Also balance by height. In a pavé arrangement, all the flower heads are close together at the same height, creating a "kind of carpet effect." This is common in powder rooms or side tables because these arrangements are naturally lower. "It was very popular for a long time," Karetnick notes. "Now, looser-style arrangements that create balance are very in vogue." For a modern look, experiment by cutting stems to different lengths to create a sense of movement.
9. Try floral tape
This specially designed tape is an old florist trick — but be sure to get the waterproof kind. "Make a grid like a tic-tac-toe board but with smaller boxes," Karetnick says. This will allow you to experiment, putting stems in and taking them out, and angling them so you can make a wider arrangement with fewer flowers. Secure the grid edges by wrapping the tape around the rim of the vase. Floral tape is "just terrific," she says.
Whatever you decide, make sure you're having fun. Your flowers are already perfect and beautiful; with arrangements, we're only adding another touch. Enjoy.