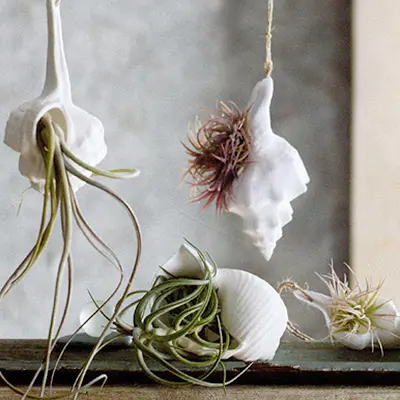 Who knew that making your flowers look extravagant can be so simple? Placing your beautiful flowers in either a hand made vase or a unique container around your house can be a fun and decorative way to display your flowers this summer! Impress your family and friends with these unique vase ideas!
Household Items That Make Decorative Vases
Kitchen jars, canisters, and even measuring cups can make your flowers look like they're ready for an outdoor picnic. If you have any empty jars or canisters collecting dust in your cupboard, decorate them with a mix of daisy's and wild flowers to give the real summery outdoor look.
Egg cups are an adorable vase idea to use as either table placements for a party or to salvage those flowers with a small stem.
Placing flowers in a colorful mug, glass, or wine bottle, or even a white ceramic vase can accent or compliment your flowers. Accentuate a blue glass with some white daisies, a pink mug with hydrangeas or red roses in a white porcelain pitcher. Using an antique container with some color can make your summer flowers pop!
Think outside the box and use a decorative outdoor flower box indoors! Whether right by your indoor window or over a fireplace, it will give your house a cool country feel.
Placing your flowers in multiple teacups, dessert cups, wide bowls and fun shaped containers turns your flower arrangement into a chic centerpiece.
Don't be afraid of using bowls! Decorative bowls or baking dishes garnished with gladioli and draping ivy can be a gorgeous centerpiece for the dining room table.
Get baking and use bunt cake or regular cake molds and even muffin tins to make a kitchen feel like home. In small molds like the muffin tins, you can plant pot marigolds, wax begonias, New Guinea impatiens, dwarf morning glories, amaryllis, and African violets.
Fun And Creative Vases You Can Make With The Kids!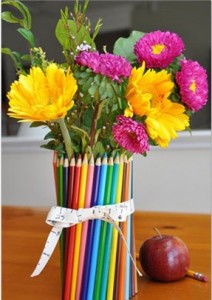 Have your kids go on a sea shell hunt or purchase some at a store! You can tuck flowers into a conch shell or find an open clam shell that's deep enough to place some moss with real or fake flowers.
Capture all the colors of your flowers with colored pencils! Have the kids gather up all of their favorite colored pencils and glue them around a jar or container. Tie a decorative ribbon around it to secure the pencils together.
Get crafty by painting old containers or watering cans with the kids to place your fresh summer flowers in. Use acrylic paints for a more vibrant, water proof and long lasting look.
If you don't want to deal with the mess from painting, have the kids glue or use double faced tape to secure a ribbon around a square vase or a rounded can. If using hot-glue, make sure it is handled by an adult and kept away from the kids.
Throw away that old vase or turn it into a new one! With these simple and easy tips, you'll never look at another vase the same way again.