Celebrate Independence Day with a bash that'll go down in history! From invitations to decorations, check out these festive and fun 4th of July party ideas that will make your event the celebration of the season!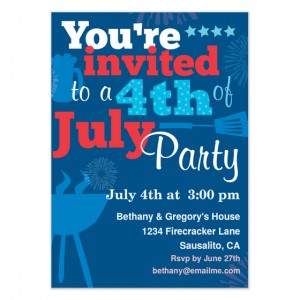 Fourth of July Party Invitations
Let guests have a preview of the fun you have planned with a wow-worthy 4th of July invitation! Celebrations.com has a collection of both free and premium online invitations that will ensure guests choose your soiree over the other invites they receive.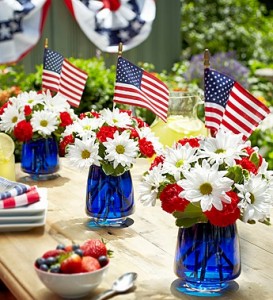 Patriotic Décor
To easily turn any area into a festive space, focus on color! Stick to the basic red, white, and blue color scheme throughout to create a unified look that is bursting with American flair.
Any selection from our 4th of July flowers collection such as the stunning American Dream Bouquet Trio (featured) can be used as a centerpiece or accent piece and will turn your home into a celebratory abode that would make any patriot proud.
4th of July Party Menu Ideas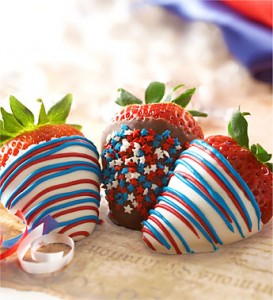 Festive Foods for July 4th
Take advantage of the weather when planning your festivities. If you are lucky enough to have the summer sun as your setting, plan your event outdoors. Heat up the grill and throw some savory burgers and hot dogs on for a truly All-American feast!
For dessert, give your favorite desserts a USA- ready makeover with a few easy touches! Flag toppers, festive cupcake wrappers, and themed plates and napkins are a simple way to take your event to the next level. Alternatively, desserts topped with colored frosting or sprinkles such as the Fannie May Stars & Stripes Strawberries pictured will add a burst of fun to the spread.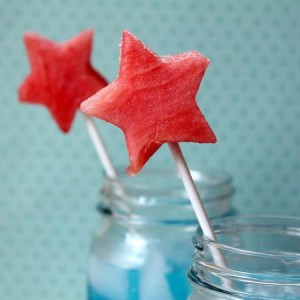 Raise a Toast to the USA: 4th of July Drink Ideas
Give your favorite drinks a U.S.A-ready makeover with a few easy touches! Cut star shapes out of watermelons or red-skinned apples and throw them into your punch mix. Or, top a toothpick with raspberries and blueberries to create festive and sweet drink toppers; just a few extra moments of planning will take your party above and beyond!
Looking for more Independence Day 2014 fun? Be sure to check out our 4th of July Fun Facts!