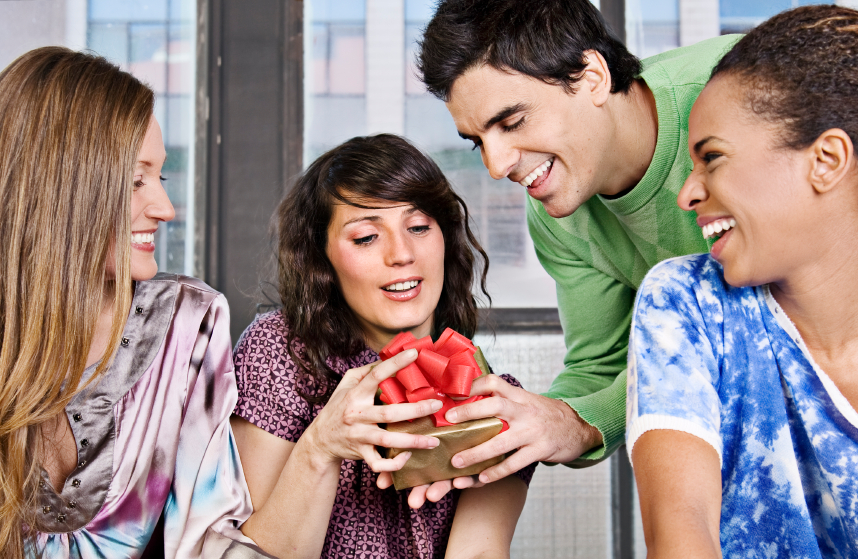 He's there to aid you, direct you, and lend a willing ear when the work day gets tough. He may be the boss, but he's also a friend, colleague, and confidante. Bosses Day is October 16th, 2017, so celebrate the head honcho with a gift of thanks from the whole team!
While a gift from the whole group is sure to make his day, it's no secret that things can get a little hectic when multiple people at a time are involved. Make the planning a bit simpler and ensure success by following these 8 simple tips for group gifting!
8 Simple & Successful Group Gifting Tips
Plan ahead. If possible, start planning the group gift 2-3 weeks in advance. This leaves plenty of time for all interested parties to choose a gift and gather funds while allotting at least a week for delivery time.
Use a group gifting website. There are several crowd sourced gifting websites available (such as Givted) for use to make your group gifting organization that much easier.
Assign one person in charge. Just as you don't want too many cooks in the kitchen, you don't want too many people planning the gift giving. Choose one person (or a committee) in charge of contacting interested parties, collecting funds, and ordering the gift.
When sending an email, triple check the recipient list. This may seem like a no-brainer, but it just takes one small oversight to accidentally send the "surprise" to the guest of honor. And if this does end up happening – well, there's always next year!
Provide a timeline. Send an email to all interested parties with a timeline of events. This should include:
Date by which colleagues should let you know they are participating
Due date of funds
Date gift will be ordered
Date gift is scheduled to arrive
Information on how the group will be presenting the gift
Send an e-card along with the gift. While a written note is always ideal, in situations of group gifting, an e-card may be the best solution. This way, people can add in their names and messages up to the last minute before sending, and it's another outlet to help show thanks!
Select 3-4 gift options with varied pricing. Be prepared with several gifting alternatives based on how many people get involved. You may find slightly less interest or alternatively, slightly more interest than you anticipated – provide several options of potential gifts so recipients have an idea of what their funds will buy! Flowers are always a great gift to display proudly on their desk!
Send a follow up thank you email. Send an email to all involved for a seamless gifting experience. This will make the next group gifting initiative go smoother!