Learn How to Create a Father's Day Gift Using Plants

Father's Day 2013 is Sunday, June 16!
Looking for a gift that fits dad's personality for Father's Day? It's nice to buy dad something, but if you wanted to try making your own Father's Day gift for an extra special touch, you have found the right blog post! With just a few plants and a container, I'll show you how to make a fun Father's Day gift that dad will love!
Materials Needed for DIY Father's Day Planter:
• Ceramic Container; We used a golf ball planter but feel free to be creative to fit dad's likes!
• Soil
• 3-4 plants of different height from your local florist, depending on size, preferably a type with vines like Philodendrum. Plants we used includes:
– tricolor marginata
– Philodendrum
– Mini palm
– Spanish Moss
7 Easy Steps on How to Make a DIY Father's Day Gift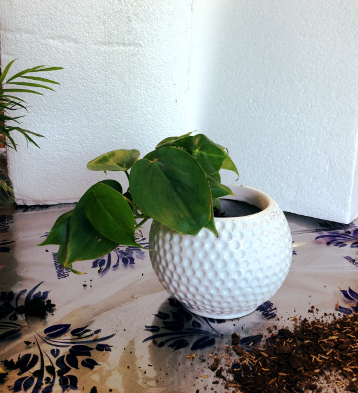 1. Choose any sports or hobby related ceramic container.
2. Depending on the depth of the container, add a little bit of potting soil, measuring about 1/10 of the container.
3. Place your plants, one at a time, using the plant with vines first to one side, the tallest to the back or center of the planter and the shorter plant to the opposite side.

4. Add soil, compacting as you go. Compact or compress the soil around the individual plants to get rid of air pockets.
5. Lightly water the plant.
6. Add your Spanish moss as a finishing touch to the completed planter.
7. Give this fun Father's Day plant to dad and watch him smile with amusement!
Note; Plants are easier to work with when soil is dry, therefore if able, get them a couple of days in advance. If you are not sure how to take care of it, refer back to the plant care section on our 1800flowers blog.
Thanks for planting with me and I hope you have an amazing Father's Day!
If you liked this article, you may also be interested in some of our other Petal Talk articles from 1-800-FLOWERS.COM Expert Jerry Rosalia:


· How to Make a Mother's Day Floral Arrangement
· How to Make an Easter Floral Arrangement
· How to Make A DIY St. Patrick's Day Floral Arrangement
· Winter Plant Care Tips: How to Care for Plants in the Cold Weather
· Keeping It Green: How To Keep Plants Alive
· How To Repot A Plant
· How To Arrange Flowers With A Gridded Vase
· Rose Care: How to Save Roses with "Bent Necks"
· Learn more about Jerry Rosalia and his 58+ years of experience in the flower and plant industry!
· How to Make a DIY Halloween Flower Arrangement with Halloween Candy