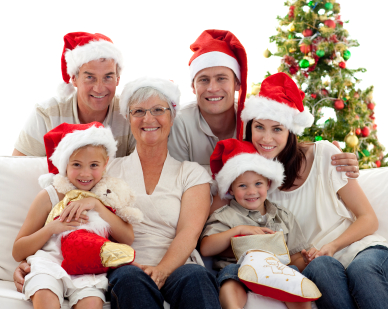 With all the hustle and bustle of shopping for the perfect Christmas gifts, it's easy to lose sight of what the holiday is truly meant for: spending quality time with the family, passing down timeless traditions and spreading the spirit of goodwill. Bring your loved ones together and strike up some merrymaking with these fun family activities for Christmas.
Karaoke Caroling
Fill up your MP3 player with karaoke versions of your favorite Christmas carols. Print out a few booklets with the lyrics of the songs and hand them out to each family member, young and old. Gather around the Christmas tree and sing the carols together, choir style!
Game Exchange
Ask each of your loved ones to bring at least one board game from home. After you're all done opening your presents, crack open the games one by one and play an all-night marathon.
Movies 'n' S'mores Night
Pour everyone a mug of hot chocolate and sit around the fireplace with all the fixin's you need to make S'mores. As you're all toasting marshmallows by the fire, watch your favorite Christmas classics, like A Christmas Story, Home Alone, A Charlie Brown Christmas, or It's a Wonderful Life.
Christmas Card Swap
Set up a craft table for the little ones and stock it with construction paper, crayons, glitter, glue, and safety scissors. Have the kids create their own Christmas cards and exchange them with each other.
Neighborhood Tour
Pack some hot coffee and cocoa in thermoses, bundle up and take a walk around the neighborhood as a group to see the beautiful light displays.
Gift-Wrapping Contest
Tell your family members to show off their wrapping skills as best as they can, and display all of the gifts on a table next to the Christmas tree. Separate the gifts according to the person who wrapped them, and have everyone vote on the prettiest parcels!
Christmas Storytelling
Pick a classic Christmas book, like A Christmas Carol, and have the kiddies take turns reading passages from the story for everyone to hear.
Night of Giving
Once the gifts have been unwrapped, ask your kids to pick out some of their old toys to donate them to needy children. Then, pile the family into the car and head to the nearest shelter to drop off the toys. It'll help teach the little ones all about the real meaning of Christmas, and it'll clear some clutter out of the house!
Kiddie Tree Decorating
Cut out the shape of a large Christmas tree from green poster board. Get the kids to cut out and decorate their own construction paper ornaments, and then help your kids glue the ornaments onto the paper tree.
What kind of fun Christmas activities did you do with your family when you were younger? Tell us what favorite traditions you'll be passing on to your kids this year!