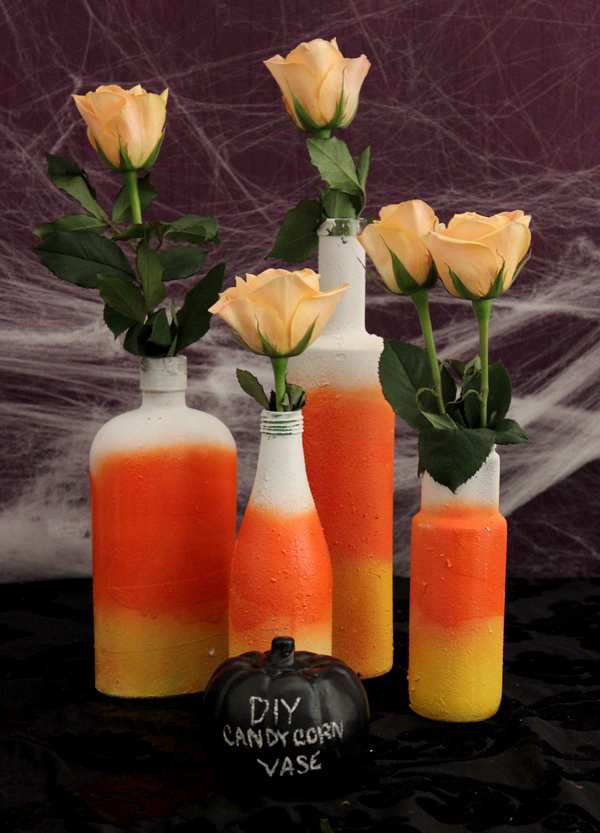 Give old glass bottles new life in time for Halloween with a little bit of creativity and spray paint! Using just white, yellow, and orange spray paint, we turned potential (recyclable) trash into festive treasures that we used to showcase our stunning orange roses in.
While the actual painting of the bottles took under fifteen minutes total, please plan to do these at least one day before use to allow ample time for drying.
To ensure a steady, even coat, please follow these general spray painting guidelines:
– Paint using long, steady strokes from one side to the other side
– After reaching the end of one spray line, let go of the trigger and continue with your next stroke.
– Avoid spraying the entire bottle with one "spray."
– If your bottle starts to spit paint, clean out the nozzle before proceeding.
Bonus Halloween Party Tip: Use festive place cards or similar to label the "sections" of your party spread – such as spooky snacks, creepy cocktails, and Ahh-inspiring Activities. We used these Mini Chalkboard Pumpkins (pictured) from The Popcorn Factory and they worked beautifully with the spread.
Supplies for DIY Candy Corn Vase
Empty glass bottles
White Spray Paint
Yellow Spray Paint
Orange Spray Paint
Directions for DIY Candy Corn Vase
First, clean out all empty bottles of any liquid residue. You may keep any stickers or labels on the bottles as the spray paint will cover it. Once your bottles are ready, it's time to prep your area. Lay out old newspaper, garbage bags, or a tarp if available to avoid any property staining.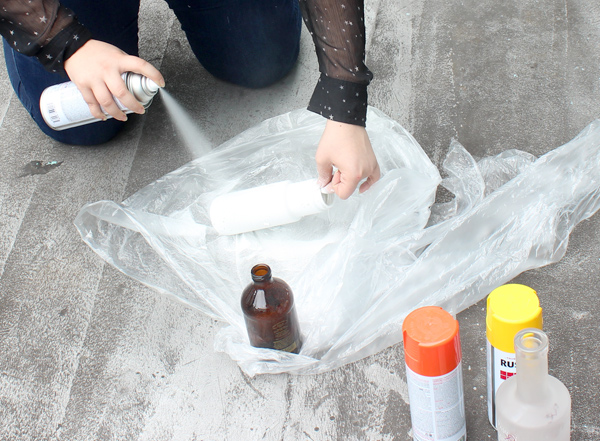 Finally, it's time to start painting! First, do a full coat of white spray paint. Do this for all of your bottles. If necessary, wait 2-3 hours and do an additional white coat (ours only required one coat).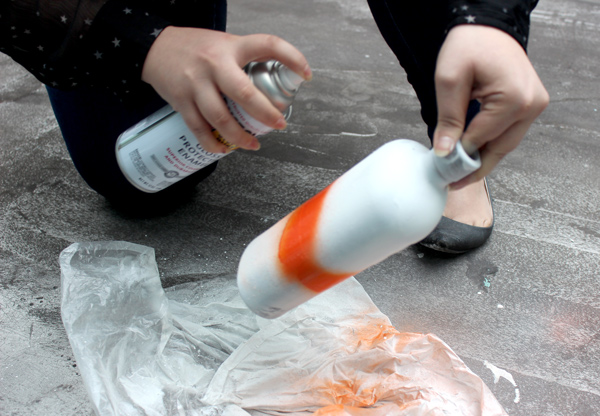 Once your bottles are fully painted white, let dry for 3-4 hours. Then, take your orange spray paint and begin adding your orange section, following our spray painting guidelines. Do this for all of the bottles. Once the orange section is complete, let dry for another 3-4 hours. Finish with the yellow spray paint until the bottom of the bottle. Repeat for all bottles.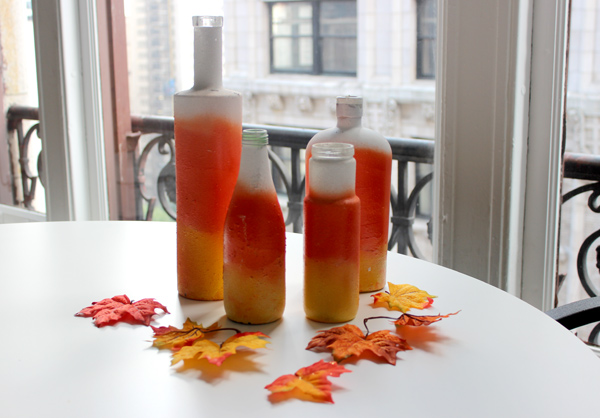 Let dry for 4 hours- overnight. Now, your DIY Candy Corn vase is ready for showing off! Pair them with stunning Halloween flowers for a truly magical decorative piece.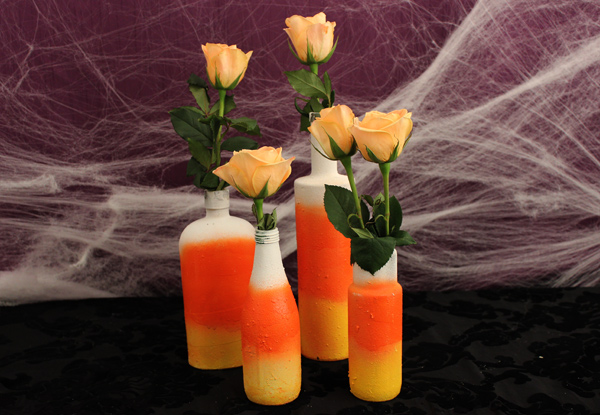 This candy corn vase works beautifully as a statement piece for a spooky Halloween party.
Or as subtle décor for a general fall themed soiree.