With the noisy swarms of couples and the irrationally high menu prices, going out for Valentine's Day is more of a hassle than a luxury. And with Valentine's Day 2015 falling on a Saturday, you can imagine the hustle and bustle to be extra hectic. Who needs that when you can create a five-star experience right out of your own kitchen? Here are 20 tips how to plan a romantic Valentine's Day dinner for two at home!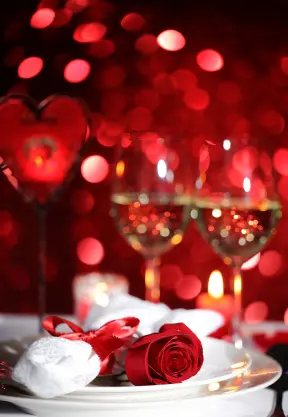 Valentine's Day Dinner Tip No. 1: Prepare your food in advance.
The No. 1 mood-killer for your Valentine's Day dinner? The stress of rustling up a last-minute meal. Don't waste precious together time scuttling around the kitchen. Instead, prepare and cook all of your food well in advance. That way, you can sit down and truly enjoy the most important part of the night: your sweetie.
Valentine's Day Dinner Tip No. 2: Cook together.
There's no rule that says cooking a Valentine's Day dinner has to be a one-person job. Consider making your meal together as a couple. You can have fun playing and experimenting with the ingredients, or you can get sensual and feed each other as you go along. You don't even have to sacrifice that luxurious touch you get at your favorite restaurant; simply pick up high quality ingredients (if ordering steak, be sure to get the right cut). Whatever you do, you'll be creating some unforgettable memories … and food!
Valentine's Day Dinner Tip No. 3: Ignite your passion with food.
Love potions aren't just a bunch of fairy tale fluff. They actually exist! Certain foods are known as romance-boosting aphrodisiacs, including oysters, saffron, ginger, asparagus, garlic (we're not kidding!), basil, figs and strawberries. You can find a full list of sensuous eats on Celebrations.com. Be sure to incorporate some (or all!) of these into your menu to heat things up on V-Day.
Valentine's Day Dinner Tip No. 4: Keep it simple.
Only two words describe the perfect Valentine's Day cuisine: light and simple. You want your meal to fill you up—not weigh both of you down. Try these delicious yet delicate Valentine's Day dinner recipes that'll satisfy you both … and save you the hassle of whipping up a complicated feast.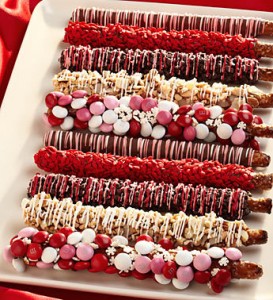 Valentine's Day Dinner Tip No. 6: Give your dining space a quick makeover.
Celebrating V-Day in the same kitchen or dining room that you eat in every night might be anything but exhilarating—unless you think outside the box.Change the everyday scene by simply rearranging a few pieces of furniture. You'll feel like you're in a brand-new home or, better yet, a fancy restaurant (minus the crowds)!
Valentine's Day Dinner Tip No. 7: Make a keepsake Valentine's Day menu.
Give your feast some true restaurant appeal: Print out your menu on Valentine's Day themed cardstock, or create your own chalkboard menu sign. You can keep the menu card as a precious token of your night together, or you can reuse the chalkboard sign as a menu for your weekly dinner specials.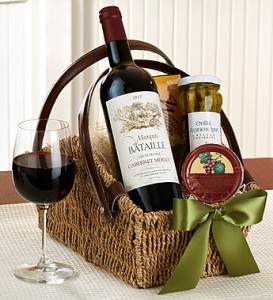 Valentine's Day Dinner Tip No. 8: Enhance your food with wine.
True love is like good wine; it gets even better with age! So go ahead and spoil yourselves: Complement the exquisite flavors of your Valentine's Day dinner with a bottle of fine wine. Your sweetheart is definitely worth it.
Valentine's Day Dinner Tip No. 9: Break out the fine china.
If ever there is a more perfect occasion to put that fine china to good use, it's Valentine's Day. Lay out some gorgeous linens in shades of red, white and pink, and then set the table with your best dinnerware, glassware and silverware. Then comes the pièce de résistance: an eye-catching floral centerpiece. Your honey will feel like royalty when they finally settle down at the dinner table.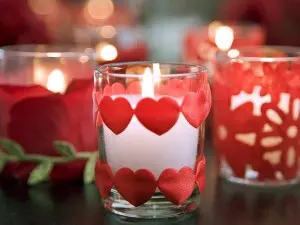 Valentine's Day Dinner Tip No. 10: Set the mood with candles.
To create a softer, more enchanting ambiance, turn the lights down low (but make sure it's still bright enough to see!) and scatter plenty of romantic candles across the tablescape.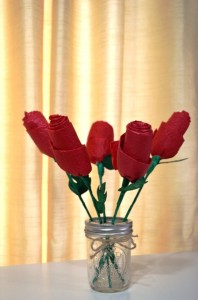 Valentine's Day Dinner Tip No. 11: Give your celebration some personality.
Add a striking personal touch to your celebration by making your own Valentine's Day décor and gifts, like these handmade roses and this Valentine's Day coupon book. Nothing says "I love you" quite like a gift that's handmade and heartfelt.
Valentine's Day Dinner Tip No. 12: Decorate your home with heart-shaped anything.
Speaking of hearts, they should be in abundant supply throughout your V-Day dinner décor. Sprinkle them wherever you can: Get heart-shaped ice cube molds, scatter heart-shaped doilies across the table, string up a couple of adorable popcorn hearts or bake a few delicious heart-shaped treats. Hearts galore for the one that you adore!
Valentine's Day Dinner Tip No. 13: Pick a unique Valentine's Day dinner theme.
If you're not into the hearts, rose petals and lace, pick a different dinner theme that suits your interests as a couple. If you love the beach, turn your dining room and living room into a seaside escape with seashells and other natural elements. Mini honeymoon, anyone?
Valentine's Day Dinner Tip No. 14: Make a playlist with meaning.
Instead of playing those cheesy, played-out love songs that don't really have any significance to you and your darling, make a playlist of all the tunes that you love listening to together … even if it means putting The Spice Girls on your queue. Impersonal songs just become background noise, no matter how lovey-dovey the lyrics may be. If a song means something to your relationship, play it.
Valentine's Day Dinner Tip No. 15: Dress up.
Just because you're celebrating at home doesn't mean you can't get fancy. Wear an outfit that your sweetie loves seeing you in, or blow them away with something new and stunning! Tell your Valentine to suit up too. Or, if your dinner date is a surprise, set out some elegant clothes they can quickly change into when they arrive.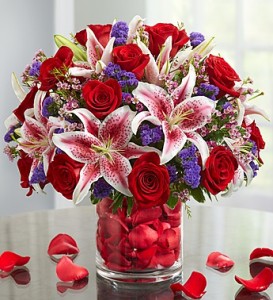 Valentine's Day Dinner Tip No. 16: Play a game.
Sure, you know your sweetheart inside and out, but there's always something new to learn! Play a fun Valentine's Day game to get to know them on an even deeper level … and have some laughs doing it.
Valentine's Day Dinner Tip No. 17: Find a babysitter, or have a kid-friendly Valentine's Day dinner.
If you have kids and want to spend some much-needed alone time with your honey, make arrangements with a babysitter way in advance so you don't have to scramble for one at the last minute. If you end up sitter-less, there's no reason why you shouldn't include your kids in the romantic evening! Make your kids feel extra-special by asking them to help you create the menu for the night. Then, they can make believe they're waiters at a swanky restaurant and serve the meal to the couple of honor: mommy and daddy!
Valentine's Day Dinner Tip No. 18: Do the dishes tomorrow.
Don't stress about cleaning up after dinner. Put the dishes aside until the next morning. Chores never end, but Valentine's Day comes but once a year. Devote it to your one and only—nothing else.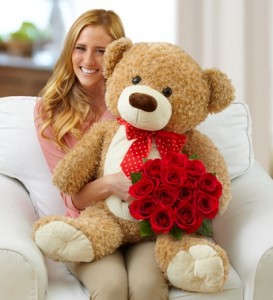 Valentine's Day Dinner Tip No. 19: Be a kid for the night.
Don't feel the need to be serious all the time. After dinner, do something you both enjoyed as kids or as high school sweethearts, like ice skating, bumper cars, video games, laser tag … whatever your inner child desires!
Valentine's Day Dinner Tip No. 20: Don't stick to a schedule.
Finally, be spontaneous! You don't have to stick to a precise plan in order to have a good time. Sometimes the best memories come from our most random ideas. If the two of you get the impulse to do something before, during or after your Valentine's Day dinner, do it!
How will you make your at-home Valentine's Day dinner special for your sweetheart?