We all make mistakes (after all, we're only human!), but sometimes those mistakes require us to do a little more work to make up for them – are you currently trying to mend a relationship with someone you love? If so, you're in luck – July 18th is "get out of the doghouse day," and we have a list of thoughtful ways that you show just how sorry you are: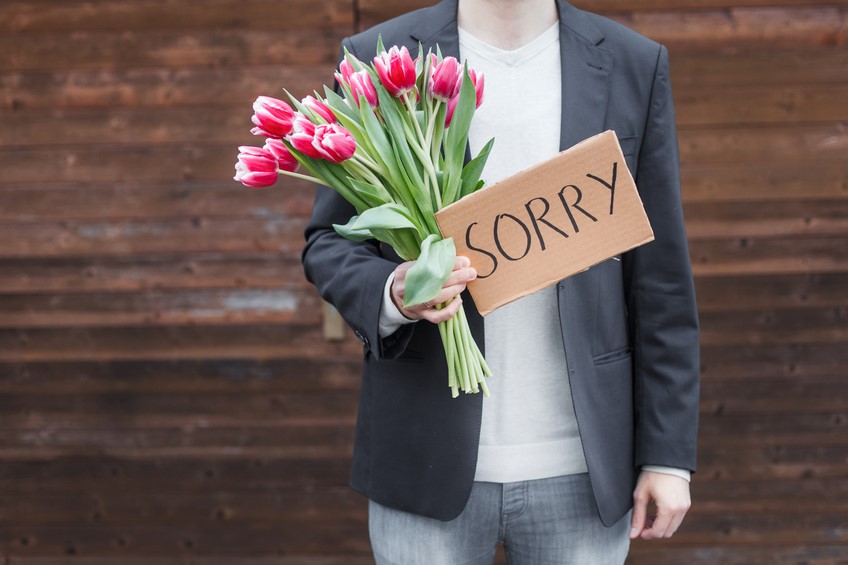 Send flowers. It certainly doesn't need to be Valentine's Day, your anniversary, or a birthday to send your special someone flowers. In fact, flowers can be the perfect pick me up for anyone who may be feeling a little down about an event that recently unfolded. A recommendation would be to send your significant other their favorite type of flower, but when you really want to show that your apology is sincere, you can't go wrong with roses.
Write a note. It's easy to just say you're sorry, but your apology can be taken to a whole new level when you take the time to write out your true feelings. Personalized messages really show that you've taken the time to think things through, and we know your S.O will appreciate the gesture!
Bring treats. Especially chocolate treats! Chocolate truly is the way to a girl's heart, so either bake her a batch of brownies, chocolate chip cookies or a chocolate cake, or, be even more romantic by sending a delicious assortment of chocolate covered strawberries.
Write a song. You don't have to musically inclined or have access to state-of-the-art recording equipment to write a song and record it. Actually, the more authentic it sounds and feels, the better off you'll be! If songwriting isn't your strong suit, you may want to consider a poem or even a haiku in its place.
Plan a surprise. Is there a movie your S.O has been wanting to see, a restaurant they've wanted to try, or a trip they've wanted to take? If so, now is the perfect opportunity to plan a day or night where you do it all! If you think it will be too difficult to get your special someone out of the house, don't hesitate to recruit friends for help.
Cook dinner. We could all go out and purchase a meal if we had to, so make things a bit more personal by making a home-cooked one. Not sure what to put on the menu? Make sure it includes an appetizer, main course and dessert that you know your significant other loves!
Make a collage. What better way to take someone's mind off of the negative than by reminding them of all of the positive times you've had together? For this approach, make a collage that includes pictures and memorabilia from some of your best memories together, then on the last page include a sweet note that reiterates how much the good times mean.
Regardless of how you choose to say sorry, remember this – what really matters is that your apology is sincere and that it comes from the heart. Your special someone will be able to tell when you really mean it, so just make sure you put your heart into everything you say and/or do!