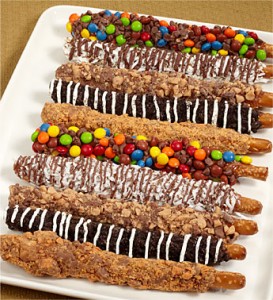 Sweetest Day is on Saturday, October 19, 2013!
In our "What Is Sweetest Day?" blog post, you may have learned that Sweetest Day is the sugary-est holiday of the year, where you can show your love and appreciation to friends and family by giving them something sweet whether it be candy, chocolate or flowers!
Sometimes thinking of the best presents is tough so we've conveniently provided you with a few thoughtful ways to show someone how much they mean to you with sweet ideas for Sweetest Day gifts!
Send Your Sweetie Flowers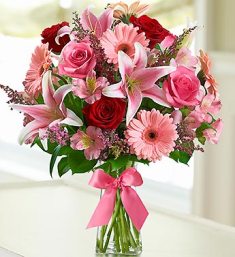 If your darling is wild for orchids or smitten with sunflowers, consider sending them a bouquet of their favorite blooms. Flowers are a no-fail gift for Sweetest Day: The subtle gesture will make a big impression, and all of your warm sentiments will shine through the beautiful arrangement. When picking out your blossoms, stick to pink and red, the holiday's official colors. The Fields of Europe Romance bouquet is a simple yet tender and cheerful arrangement that combines red and pink roses, lilies, Gerbera daisies and alstroemeria.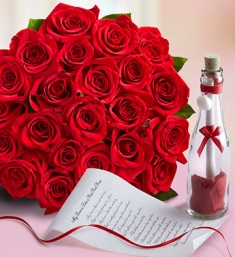 Write a Sweet Heartfelt Poem
For a truly personal touch, conjure up your inner Shakespeare and pen a poem for your sweetheart. Handwrite it in a card and mail it along with your flowers. If words aren't your forte, look to the pros for some inspiration. Your one and only will love the Message in a Bottle bouquet; these stunning roses come with Robert Burns' classic poem "A Red, Red Rose." Or, this touching poem by E.E. Cummings can be shared with anyone special in your life:


i carry your heart with me
(i carry it in my heart)
i am never without it
(anywhere i go you go, my dear;
and whatever is done by only me is your doing, my darling)
i fear no fate (for you are my fate, my sweet)
i want no world (for beautiful you are my world, my true)
and it's you are whatever a moon has always meant
and whatever a sun will always sing is you
here is the deepest secret nobody knows
(here is the root of the root and the bud of the bud
and the sky of the sky of a tree called life;
which grows higher than soul can hope or mind can hide)
and this is the wonder that's keeping the stars apart
i carry your heart
(i carry it in my heart)
Plan a Sweet Surprise Dinner with Dessert
Whether you cook up your own special recipe or go to a favorite restaurant, setting one-on-one time to laugh and reminisce over great food is a surefire way to let your sweetie know how wonderful they are. When dinner's over, surprise your loved one with an equally delightful dessert. (After all, what would Sweetest Day be without some sugar?) Fannie May Champagne Celebration Strawberries are hand-dipped in white chocolate infused with real champagne, making them a unique and delicious alternative to the standard heart-shaped box of chocolate.
There are so many people who influence our lives each day. Who will you be celebrating on Sweetest Day, and how will you show them your appreciation? We'd love to hear some of your sweet suggestions, too!