Whether Near or Far, Here are Ways to #MakeDadsDay
As we ease back into a new normal, Father's Day festivities are going to be a little different this year. Whether your celebration is smaller than usual or you can only be with Dad virtually, there are still ways to #MakeDadsDay this June 21st. From enjoying a small backyard barbecue to hosting a happy hour over video chat, we rounded up a few fun Father's Day ideas so you can show Dad how much he means to you.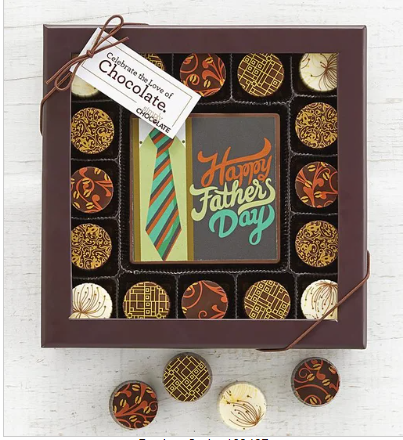 Small Gathering Father's Day Ideas & Safety Tips
With safety being a priority, you can make Dad's day extra special. From grilling burgers on the patio to riding bikes around the neighborhood, surprise him with a day he'll cherish forever. If you're hosting a small gathering, remember to keep your distance from others and wear masks when required. No matter your decision, we rounded up Father's Day activities that will allow Dad to spend quality time with you, which is the greatest gift of all.
Have a backyard barbecue
Set up a picnic
Go camping in the backyard
Enjoy a bike ride
Go fishing at the lake
Host a game night
Watch a movie marathon
Don't Forget the Father's Day Card or eCard
You can't give Dad a gift without a card! Heartfelt and sweet, check out our free Father's Day printables and eCards. Whether you're celebrating Dad, your husband, or any special guy, we have greetings for the supermen in your life.
Virtual Father's Day Ideas
If you're celebrating Dad virtually, there are still an assortment of activities you can enjoy. From cooking dinner together via video chat to taking him on a virtual museum tour, show Dad how much you cherish your time with him, whether near or far.
Whiskey, beer, or wine tasting
Host a virtual movie night
Plan a virtual game night
Cook and eat together over video chat
Enjoy a virtual happy hour
Take him on a virtual museum tour
Send Something Special
No matter how you're honoring Dad this Father's Day, make sure to send him something he'll love. From creative DIY gifts to thoughtful surprises, we have gift ideas that will make him feel like the luckiest guy in the world!
Thoughtful Father's Day Gift Ideas
Have his favorite beverage delivered
Have breakfast, lunch, or dinner delivered
Send him dessert
Send him a plant or flowers
Let him get creative with a DIY kit, such as a cheese making set or a 3D puzzle
Dish Garden for Dad in Rustic Cube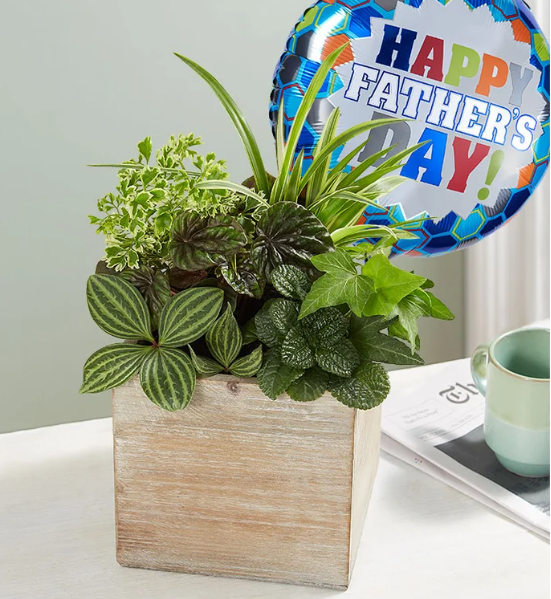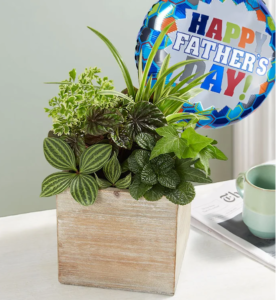 Here's a gift Dad can enjoy long after Father's Day. Our classic dish garden is gathered with a selection of lush green plants to celebrate the man of the day. Complementing the arrangement is our grey-washed wooden cube, featuring natural tones and textures sure to spruce up his office space or man cave.
Wonderful Wishes for Father's Day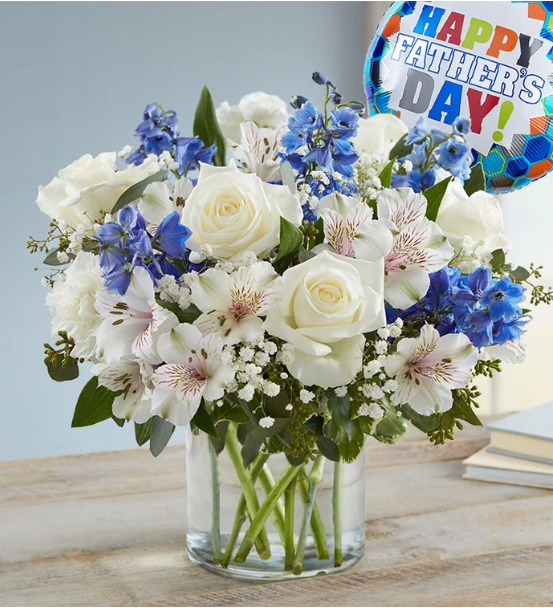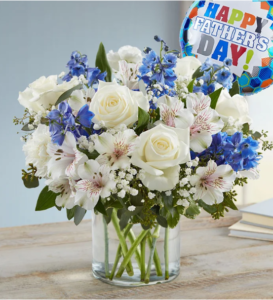 Our rustic bouquet in shades of blue and white captures every loving wish you want to express this Father's Day. Hand-designed inside a clear cylinder vase and paired with a festive balloon, it's a gift to celebrate the wonderful man he is, today and every day.
Send Dad Some Zen with a Bonsai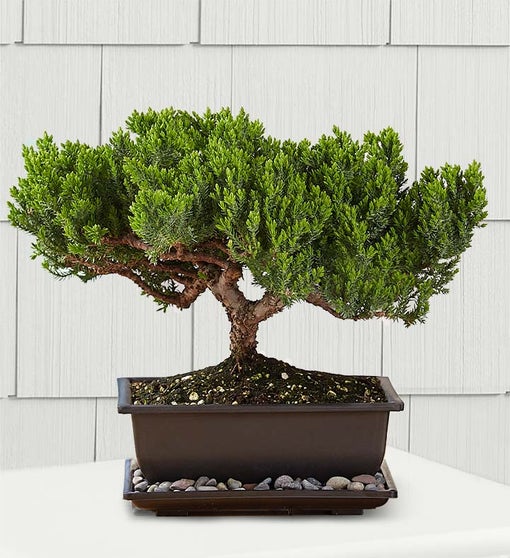 Send the gift that keeps on giving with a bonsai. Whether it's for Dad's office or his favorite room in the home, it's a little touch of peace that will remind him how loved he is. In addition to looking nice, there are a lot of health benefits to having green plants in your home like air purification, and bonsais are also known for bringing some zen, too.
Father's Day Gift Box
Send Dad sweet treats with a box of individually wrapped cookies, including buttercream frosted vanilla cut-outs, triple chocolate frosted, chocolate chip, and buttercream frosted cut-outs with chocolate sprinkles. With 24 cookies bursting with flavor, it's guaranteed to bring a smile!
Tins with Pop – Favorite Child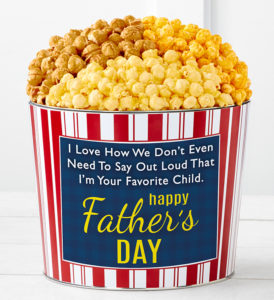 The perfect gift from Dad's favorite little jokester, this popcorn tin includes butter, cheese, and caramel popcorn. It's a deliciously good way to remind Dad why he adores you so much!
Tins with Pop – Cool Dude Dad's Day Dog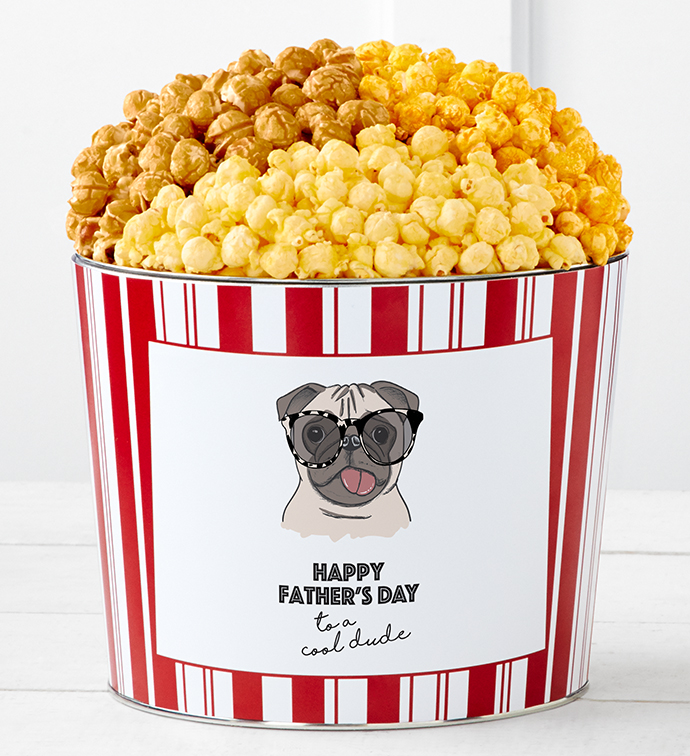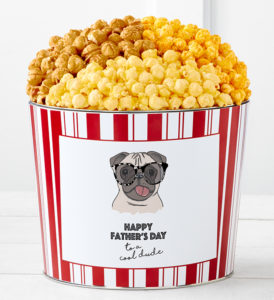 This adorable popcorn tin is another example of the fun labels you can choose to fit Dad's personality. It includes butter, cheese, and caramel popcorn for any father who enjoys snacking!
All Star Dad Baseball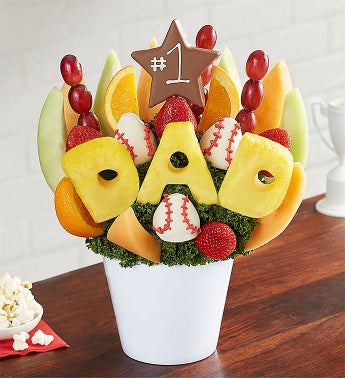 Looking to score extra points with Dad? We've got just the treat: a festive Father's Day arrangement filled with delicious chocolaty-dipped strawberries decorated to look like baseballs, together with juicy letter-shaped pineapples that spell "DAD." Add a "Happy Father's Day" balloon to make his day even more special.
Father's Day Crate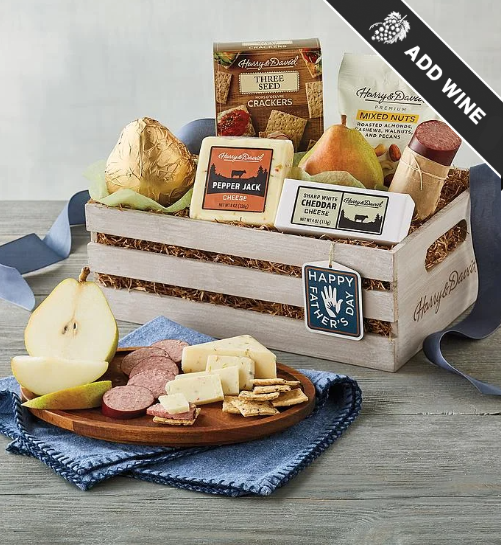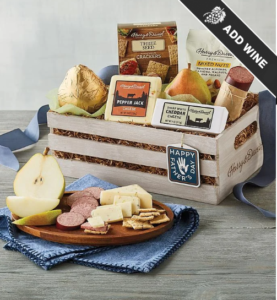 Seriously great dads deserve seriously great snacks. Show Dad how much he means to you with a crate full of savory treats! Inside he'll find mixed nuts, fine cheeses, hearty sausage, crunchy crackers, and fresh pears for a sweet touch. This crate also comes with a tag that reads, "Happy Father's Day."
Father's Day Gift Box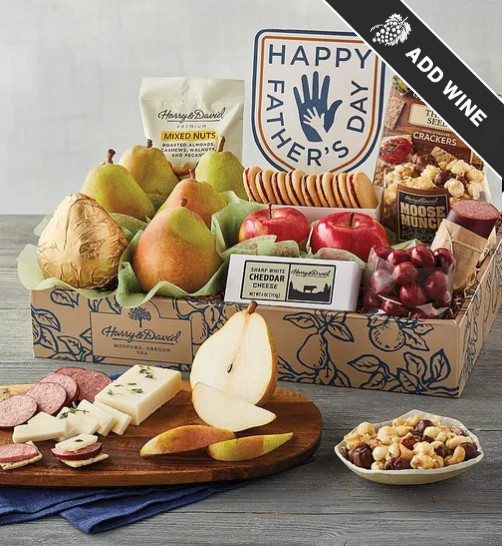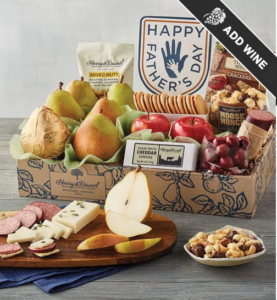 Make Dad's day extra special with a delicious assortment of gourmet goodies! Included are juicy pears, popcorn, cheddar cheese, premium sausage, and much more. Substantial and delicious, this is a gift Dad won't be able to get enough of!
Father's Day Gift Basket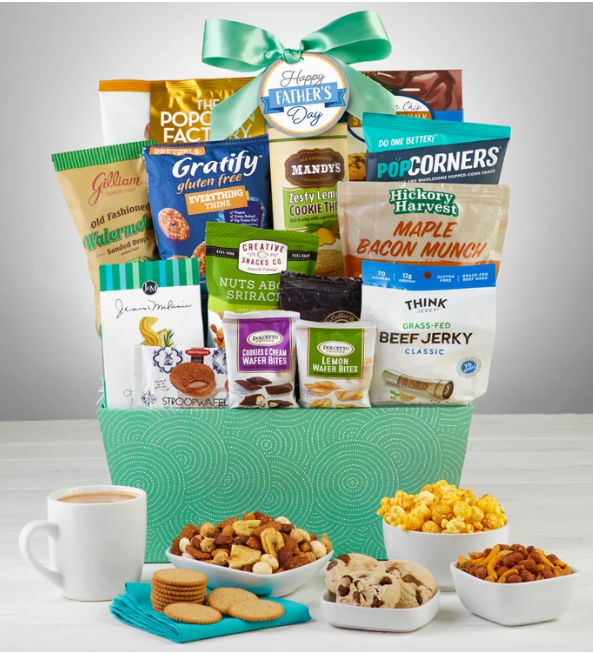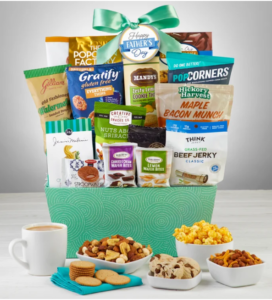 Send Dad what he really wants for Father's Day — a basket filled with snacks just for him! This gift set includes an array of snacks including popcorn, wafers, maple bacon trail mix, cookies, cheese straws, and more!
Dad's Vintage Beer Carrier with Opener and Snacks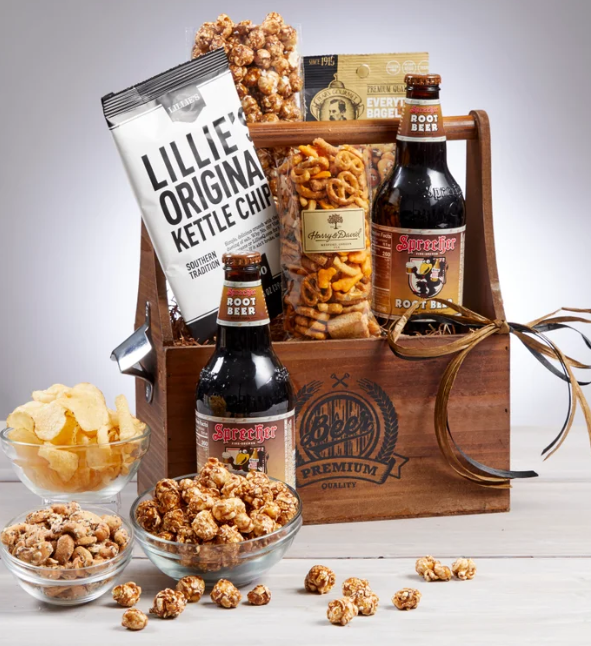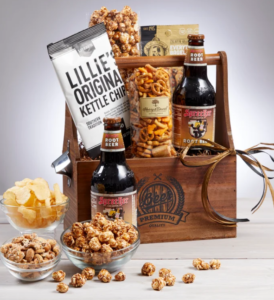 Craft beer lovers will appreciate this vintage looking wooden carrier. It's brimming with snacks that Dad will truly appreciate, including flavored cashews, party snack mix, kettle popcorn, and more. Once the root beer and snacks are gone, he can use this as a carrier to store his own drinks!
Dad's Summertime Grill and Treats Gift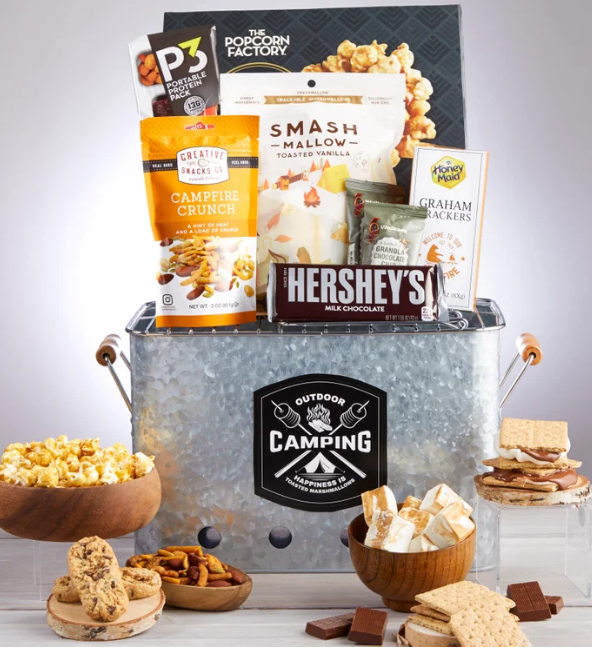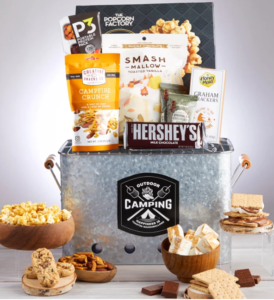 Dad will love this complete set of sweet and savory treats with a picnic grill. It comes complete with all the s'mores fixings, including a Hershey's chocolate bar, Honey Maid graham crackers, and Smash Mallow toasted vanilla marshmallows. The best part is that he can use the grill for many summers to come!
Father's Day Bar Truffles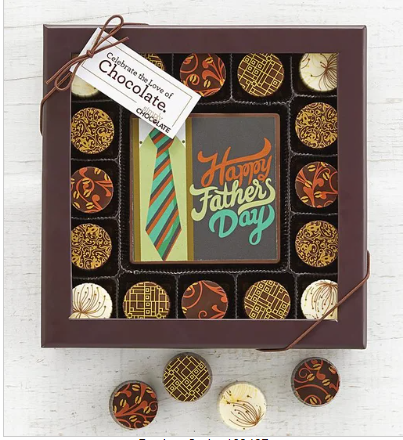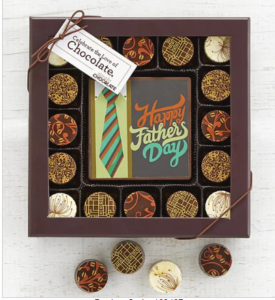 Show Pops he's the best when you send this delicious truffles gift box! It includes a colorful Father's Day chocolate card surrounded by 16 artisan truffles in milk, dark, and white Belgian chocolate shells with flavor-infused ganache centers. He'll bite into coffee, dark chocolate, butter pecan, and white chocolate.
Splendid Sweets Basket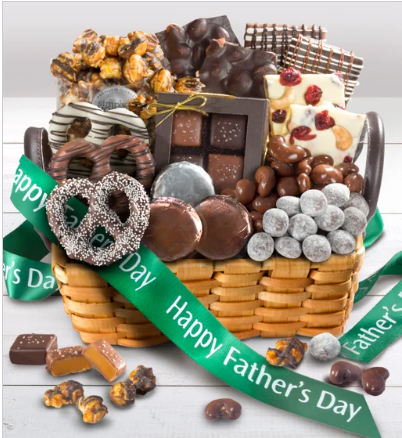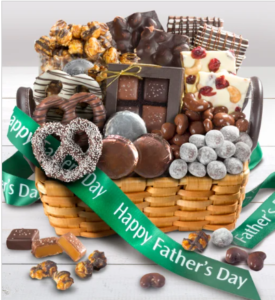 Send Dad a basket of chocolate favorites including chocolate barks, chocolate covered pretzels, chocolate covered grahams, chocolate peanut butter toffee balls, chocolate covered OREO cookies, chocolate toffee sea salt cashews, and more! This basket comes beautifully presented in a wood slat basket tied with a Father's Day ribbon.
Neuhaus Belgian Liquor Chocolates Box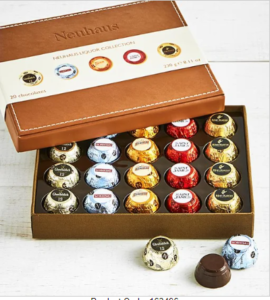 This chocolate box is the perfect gift for the classy dad with a sweet tooth. Neuhaus's Liquor Collection includes 20 dark chocolate premium liquor-filled pralines in a cognac-colored leather style gift box. It features the following premium liqueur flavors: Glenfiddich Whisky, Cointreau, Smirnoff Vodka, Pampero Rum, and Remy Martin Cognac.
Gourmet Dipped Fancy Strawberries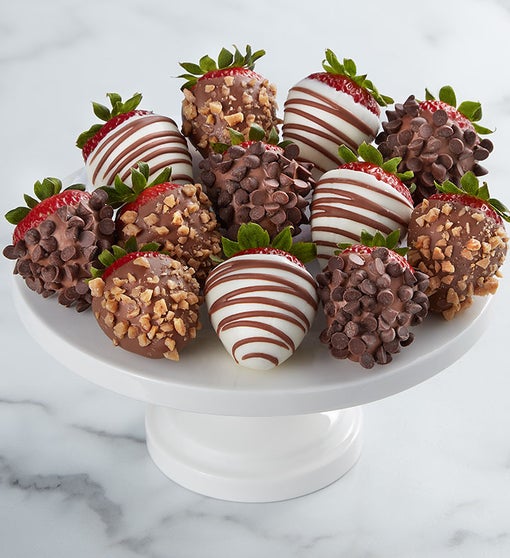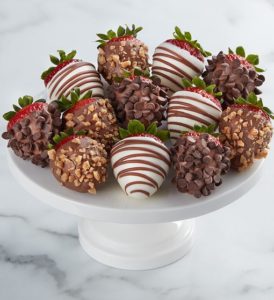 Is Dad a sophisticated type of guy? Then he deserves gourmet dipped fancy strawberries this Father's Day! Each box includes fresh strawberries, hand-dipped in rich, chocolaty confection and decorated with crunchy bits of toffee, chocolate chips, and drizzle. It's a treat for the taste buds he won't soon forget!
Mini Personalized Text World's Best Dad Cupcakes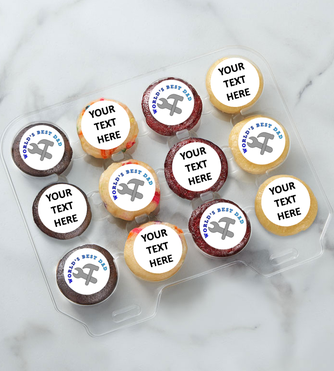 If you're looking for a tasty, personalized gift for Dad, we have you covered with these fun cupcakes! Add your very own personalized text along with our "World's Best Dad" clip art image and make his day! They're the perfect two-bite treat.
Dad Quote Custom Scrabble Game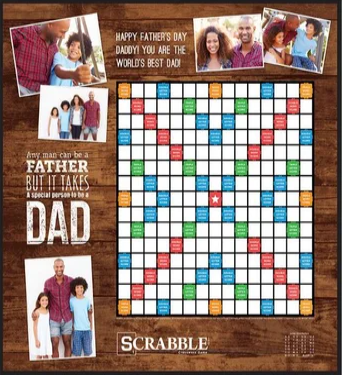 Design your very own personalized Dad Quote Scrabble Game board! Add photos of your friends, family, favorite places, and make this classic truly his! Game night will never be the same!