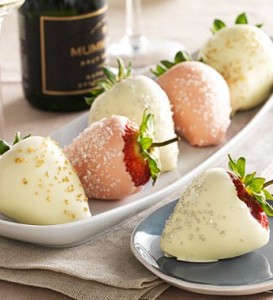 Mark your calendars: Sweetest Day is on October 17, 2015!
What is Sweetest Day, you ask? It's the sugary-est holiday of the year, and it's celebrated on the third Saturday of October.
History of Sweetest Day
It all started back in the '20s when Herbert Birch Kingston—a simple man who worked for a candy company—decided to spread a little love to the less fortunate who are often overlooked. So, he passed out heaps of candy to the orphans, the ill and the disabled in his hometown of Cleveland, Ohio.
As it turns out, the tradition stuck: Today, Sweetest Day is known as the day on which we bring joy to all of the important people in our lives.
Celebrating Sweetest Day is almost like celebrating Valentine's Day, but with a little twist. It's not just a day for love and romance; you can send gifts and treats to anyone who sweetens your life, whether they're friends, family members or your significant other.
Looking for gift ideas for Sweetest Day?  Check out our blog post "Sweet Ideas for Sweetest Day Gifts"!
Sweetest Day is always on a Saturday! Here are the dates for the next few years so you can make sure to always mark it in your calendars!
Sweetest Day 2015 is on October 17th
Sweetest Day 2016 is on October 15th
Sweetest Day 2017 is on October 21st
Sweetest Day 2018 is on October 20th
Sweetest Day 2019 is on October 19th
Sweetest Day 2020 is on October 17th