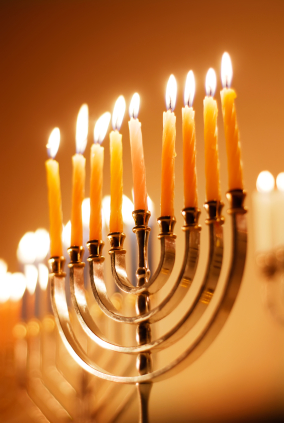 Get your menorahs and dreidels ready: Hanukkah 2015 begins this Sunday, December 6, and ends on Monday, December 14!
History of Hanukkah
Hanukkah (חֲנֻכָּה), also known as the Festival of Lights, is an eight-day celebration of the Jewish victory over the Syrians and the rededication of the Holy Temple 2,000 years ago. The most well-known Hanukkah tradition is the lighting of one candle on the menorah each night of the holiday. It represents the small flask of oil that was found in the temple, which miraculously burned for eight days.
Other popular Hanukkah customs include playing the dreidel game, preparing traditional foods like potato latkes and sufganiyot (jelly doughnuts), and singing time-honored Hanukkah songs. Take a look at our fun family activity ideas for Hanukkah and start planning your celebration early!
When Is Hanukkah?
According to the Hebrew calendar, the holiday is always celebrated on the 25th day of Kislev, which occurs anytime between November and December. If you're not going by the Hebrew calendar, sometimes it is tough to know when Hanukkah falls. That's why we've created this helpful Hanukkah calendar guide with Hanukkah dates from 2015 to 2020!
Hanukkah 2015: Sunday, December 6 – Monday, December 14
Hanukkah 2016: Saturday, December 24 – Sunday, January 1
Hanukkah 2017: Tuesday, December 12 – Wednesday, December 20
Hanukkah 2018: Sunday, December 2 – Monday, December 10
Hanukkah 2019: Sunday, December 22 – Monday, December 30
Hanukkah 2020: Thursday, December 10 – Friday, December 18