Once temperatures hit 70 degrees, you know it's time for two things: backyard barbecues and rosé wine.
Sure its pink coloring helped it get on Millennials' good side at first, but the truth is, rosé is beloved by people young and old, far and local. In fact, just last summer in France, rosé outsold white wine for the first time ever! With warm weather finally here, we've rounded up the best places to enjoy what's been called "summer's hottest drink."
1. Barbecues
Don't let its looks fool you — rosé pairs well with even the most heavily seasoned, hearty cuts of meat. From red meat to chicken, make sure you've got a few bottles of rosé in the cooler if you're planning a backyard hangout.
2. Parks
Forget the beer — this summer it's all about rosé. Whether you're heading to the park to throw a frisbee around with friends or enjoy a good book under the sun, make sure you always have something cold and refreshing within reach.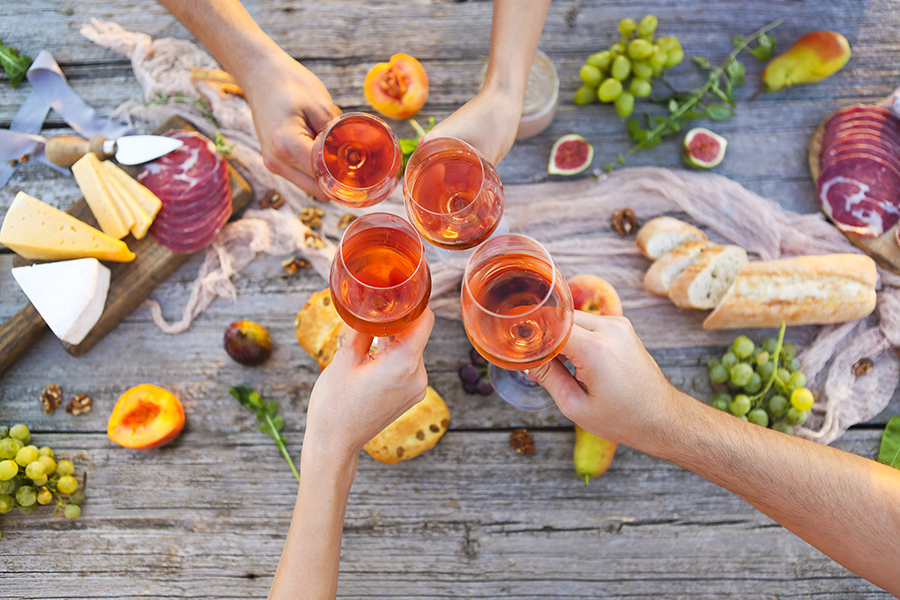 3. BYOW Restaurants
Just when you thought eating out couldn't get any better, more and more BYOW restaurants are popping up around the country. That's right, there's a chance you can now "bring your own wine" to your favorite local spot. While it won't be difficult to find rosé in restaurants this summer, they may not have your favorite if you prefer a foreign or lesser-known pink drink. When it comes to summer sipping, it's always better to be safe than sorry!
4. Picnics
Picnics have evolved from your typical checkerboard blankets and cold sandwiches. Nowadays, picnics are an art. Elevate lunch with the ones you love by packing a light-weight rosé, fruits and cheeses, and chocolates for dessert in a traditional wicker basket.
5. Music Festivals
Ah, festival season. Rumor has it that music festivals are what started the rosé trend, since rosé is refreshing, light, and goes with even the most outlandish festival outfits.
6. On the Boat
If you own a boat or are lucky enough to be friends with someone who does, let us be the first to say that you're going to have an amazing summer. Now the only thing left to do is stock your floating fridge to the brim with rosé.
7. College Graduations
After four years of group projects, papers, and tests, it's finally time to call yourself (or the person you love) a college graduate. Whether you're hosting or attending a graduation party this summer, don't forget to add rosé to the beverage list. What should also be on your list of necessities? Flowers for the happy grad and plenty of ice cream to keep people cool!
8. Brunch
There's no better way to take advantage of every minute of warm weather than by ending the weekend with brunch. With summer fruits soon reaching their peak ripeness, there's no better citrusy drink to pair with fruit and summer sun than rosé.
9. Girls Night In
Don't get us wrong, we love summer nights out. But sometimes a jam-packed restaurant without a/c doesn't make for the most memorable night. Kick back with your best friends in the cool comfort of your home. Best of all, refills in your living room are always free!
10. All the Parties
When it comes down to it, there are very few places rosé won't fit in. From bachelorette parties to baby showers and engagement parties, rosé always makes a splash!