Ready to make their heart flutter? Whether you're looking for romantic gift ideas or tips on how to sweep them off their feet, Your Trusted Cupid brings you topnotch advice from relationship experts that's sure to make your sweetheart feel adored. From thoughtful gestures to memorable date night ideas, we share the sweetest ways to say, "I love you."
We all know that wine pairs wonderfully with chocolates, fruits, and pretty much anything else that tastes delicious. But have you ever thought about pairing wine with flowers? The scents, colors, and texture of certain flowers perfectly compliment a bottle of wine. And when combined, the two make a splendid, personalized housewarming, anniversary, or birthday gift.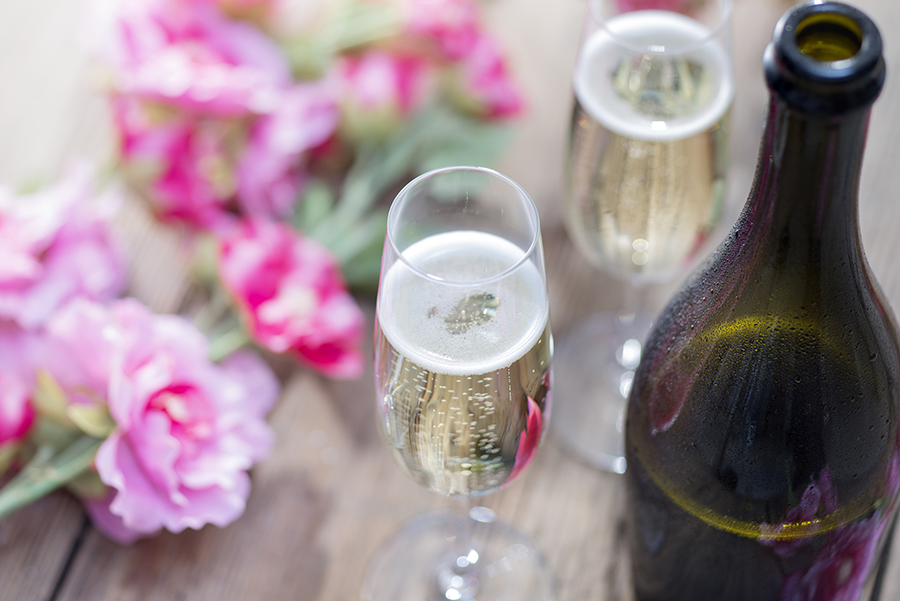 Blanc du Bois: Compliment the delicate taste and yellow coloring of Blanc du Bois with a sunny bouquet of white and yellow daisies.
Cabernet Sauvignon: These traditionally dark red bottles look beautiful alongside a bouquet of deep red roses. Or, contrast their saturated coloring with a bouquet of white roses.
Champagne: Known for their elegant nature, white lilies perfectly compliment a sophisticated and celebratory glass of champagne.
Chardonnay: The exquisite shape of white orchids brings out the simple elegance of Chardonnay.
Chenin Blanc: Add a pop of color to this traditionally white wine by combining it with a mixed bouquet.
Merlot: For a truly show-stopping look, pair a dark red bottle of merlot with any of these popular black flowers.
Orange Muscat: No choice is more perfect for orange muscat than dazzling orange lilies and roses.
Pinot Gris: With hints of lemon and lime featured in pinot gris, perhaps no bouquet goes better with it than our lemon-inspired bouquet.
Pinot Noir: Match the red coloring of pinot noir with another complimentary color, like blue hydrangeas.
Port: Compliment the deep red hues of this wine with poinsettias.
Riesling: Both classics, Riesling and tulips are a timeless, effortless pairing.
Sauvignon Blanc: White will always remain cool, crisp, and elegant. Match your favorite bottle of sauvignon blanc with an exquisite bouquet of white roses.
Syrah: Made from red grapes, this wine matches the intensity of deep red carnations beautifully.
Viognier: Dazzle viognier lovers with their favorite bottle and a bouquet of luminous sunflowers.
Zinfandel: An arrangement of mixed red flowers visually represents the many unique flavors of Zinfandel.
Looking for more ways to enjoy life's greatest gifts? Whether for a cocktail party or girls night out, our happy hour collection is the perfect mix of sassy and stunning.