Top O' The Mornin' To Ya!
March 17th is St. Patrick's Day and what better way to start the day than with a plate of hot homemade Irish soda bread scones, a cup of Irish tea, and an Irish Eyes cocktail? Add some unique Irish inspired floral decor and you're ready for the perfect Irish breakfast!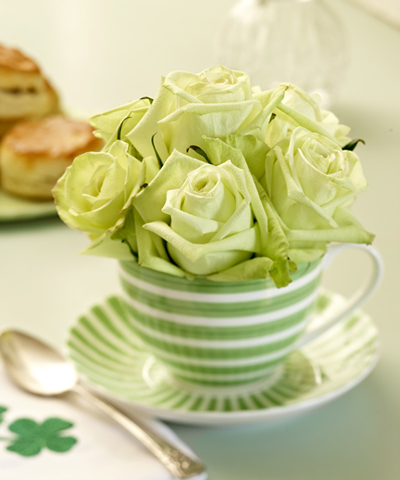 "Green Tea" Roses & Irish Soda Bread Scones
In this case, the tea is a bouquet of fresh "green tea" roses, to go along perfectly with the Irish breakfast tea of your choice! Match your tea and the tea cup of green roses, with Irish Soda Bread scones (recipe below), and you have the perfect start for your Irish breakfast!
Traditional Irish Soda Bread with Raisins Scone Recipe: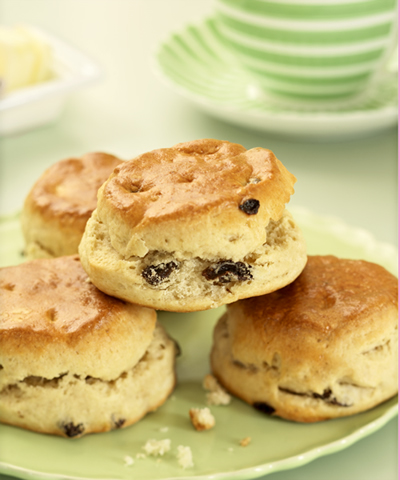 Here's a traditional Irish soda bread scone recipe with raisins that you might want to try. Let me know how they turn out!

Ingredients:
1 lb. flour
¼ pint of buttermilk
1-cup raisins
1 teaspoon of baking soda
1 teaspoon of baking powder
2 tablespoons of sugar
2 oz of Irish butter
Directions:
Sift the flour, baking soda and powder into a bowl. Rub in butter. Add in the sugar and raisins. Stir with a wooden spoon. Make a well in the mix and work in the buttermilk. Turn on to a floured board and knead briefly. With a wooden rolling pin, roll out the mixture till it is one inch thick. Use a cookie cutter, or an upside-down plastic tumbler, to cut out the scones from the dough. Glaze with a beaten egg. Bake in a hot oven (425°F) for 15 minutes.
Tricolo(u)r – The National Flag of Ireland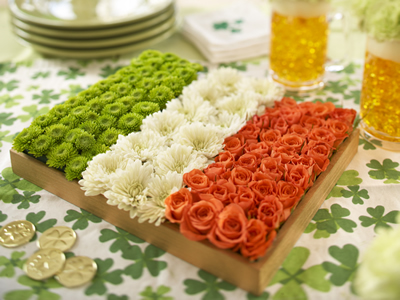 I'm embarrassed to admit that I never knew the meaning and lasting relevance of the Irish flag. I've held it high on many occasions without even knowing what the three colors represented. In case there are any others of you like me, let me take this opportunity to share my new-found knowledge, as well as my floral tribute to this piece of Irish hope and pride.
The three equal stripes illustrate the Irish political landscape, as accurately today as in 1848, the year the Irish flag was first unfurled.
Orange — Standing for Irish Protestants
Green — Signifying Irish Catholics and the Republican Cause
White — Representing the Hope for Peace Between Them
The Wearing of Green!
Green ribbons and shamrocks were worn in celebration of St. Patrick's Day as early as the 17th century. Keep the tradition alive by having green carnations available for your guests to pin on when they arrive at your St. Patrick's Day celebration. Fill an interesting and appropriately themed container, such as the old Bailey's tin that I used here, with green carnations that are cut short and ready to be adorned with a ribbon or pinned on a lapel. The carnations I've used are a natural green variety called Prado. It is one of my favorite flowers, because of its beautiful pale green color and its availability year round.
If you really want to impress your special Irish lad or lass, look into their eyes as you pin on their carnation and say the Gaelic phrase, "Tá tú go h-álainn" (you're beautiful).
When Irish Eyes Are Smiling!
This cocktail is called Irish Eyes and is similar to the vodka based White Russian. Crème de menthe adds just a hint of mint and gives the finished drink its light green color. A few of these and you'll be singing "When Irish Eyes Are Smiling" and no one will care what key it is in!
Irish Eyes Cocktail Recipe
Ingredients:
* 1 oz Irish Whisky
* ¼ oz crème de menthe
* 2 oz cream
Preparation:
* Pour the ingredients into a cocktail shaker with ice.
* Shake well.
* Pour into glass
* Enjoy and may the luck o' the Irish be with you!