Just as I promised, I am unveiling my tips for making a super-sized cupcake.
Making a super-sized cupcake is very easy! Obviously it will take quite a few chrysanthemums ('Football' mums), but it is a statement piece that will last for at least a week or maybe even two! The super-sized cupcake shown below was made in a 15" x 8" container and used about 50 mums. The same technique would be used regardless of the size of the container.
How To:
I started with a 15" diameter galvanized tub (you can purchase a tub like this one at any local craft store). Spray paint your container with Rust-oleum Painter's Touch Satin in Seaside Green.
To ensure that there would not be any leaks due to unsealed seams in the tub, I first lined the bottom with Styrofoam. The Styrofoam also ensured the cupcake wouldn't be too heavy.
I then placed floral foam in a clear plastic liner and placed that on top of the Styrofoam.
Starting with the bottom layer of the cupcake, insert the mums into the foam so that the flower sits at the rim of the container. Place each mum so that it just touches the one next to it.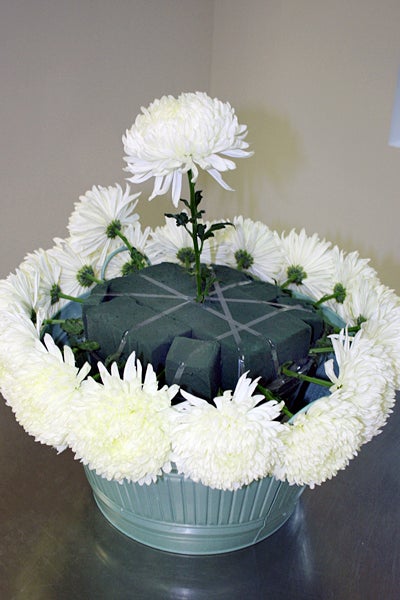 Repeat this step, making the next row of mums a little shorter then the first.
Continue until the "super-sized cupcake" is created.
I made the "sprinkles" out of wooden dowels that I painted cut to size. I attached them to the mums using Tack 2000 – a spray adhesive that is safe for florals.
Use this as an inspiration to create your own cupcake decorations. They're great for any occasion!