CARLE PLACE, NY – I always enjoy a good party, and with Thanksgiving just around the corner, on November 12, 2015 I was fortunate enough to help 1-800-Flowers.com host a "Bring Back the Centerpiece" party for local New York bloggers/writers. At the event held in the 1-800-Flowers.com Design Studio, each blogger was able to design their very own Thanksgiving centerpiece and add their own creative flair!
To further the bloggers' floral design experience, I brought some help! One of our extremely talented 1-800-Flowers franchisee owners, AnnMarie of Imperial Florist in Baldwin, NY, joined the party to help the bloggers craft their masterpieces. AnnMarie is also part of the 1-800-Flowers.com Local Artisan program, which allows florists to showcase their truly original arrangements on the 1-800-Flowers.com site.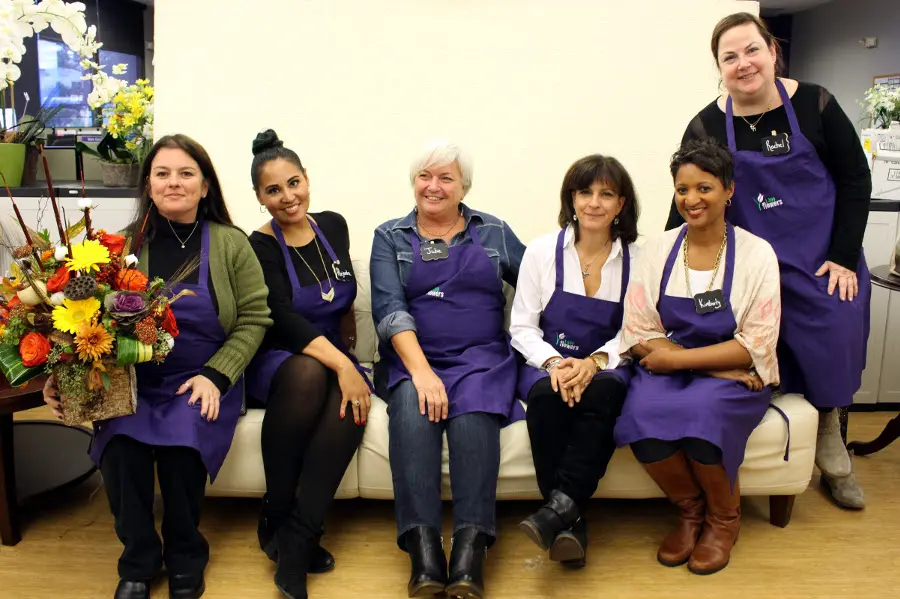 Before designing, we kicked off the event by giving the bloggers a quick introduction about our 1-800-Flowers.com history, tactics for my own blog, a look into Local Artisan designs crafted by AnnMarie, a mini studio tour, as well as an overview of the floral inspiration behind selected fall floral arrangements from 1-800-Flowers' Thanksgiving collection.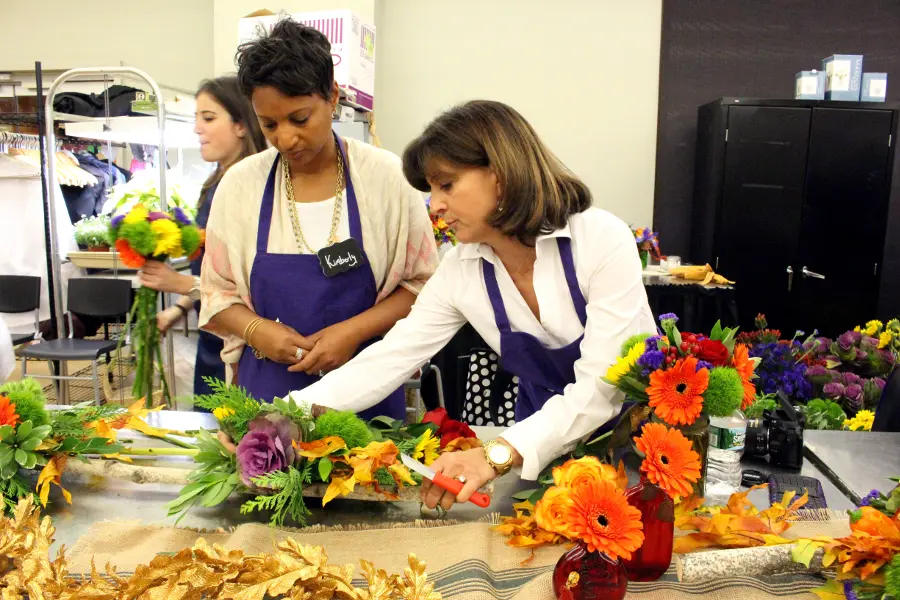 Then it was time to start crafting!!
Before the session AnnMarie and I had crafted a few Thanksgiving centerpieces to give the party goers some floral inspiration and options. We thought it would be more fun to let them decide on their final arrangement.
From an extraordinary birch branch floral centerpiece, to fall flowers in a mason jar, I shared some of my best Thanksgiving centerpiece secrets. In addition to traditional centerpieces, I also shared how to create a vase using colorful peppers, a place mat using fall leaves and mod podge, and tealight holders using artichokes and apples!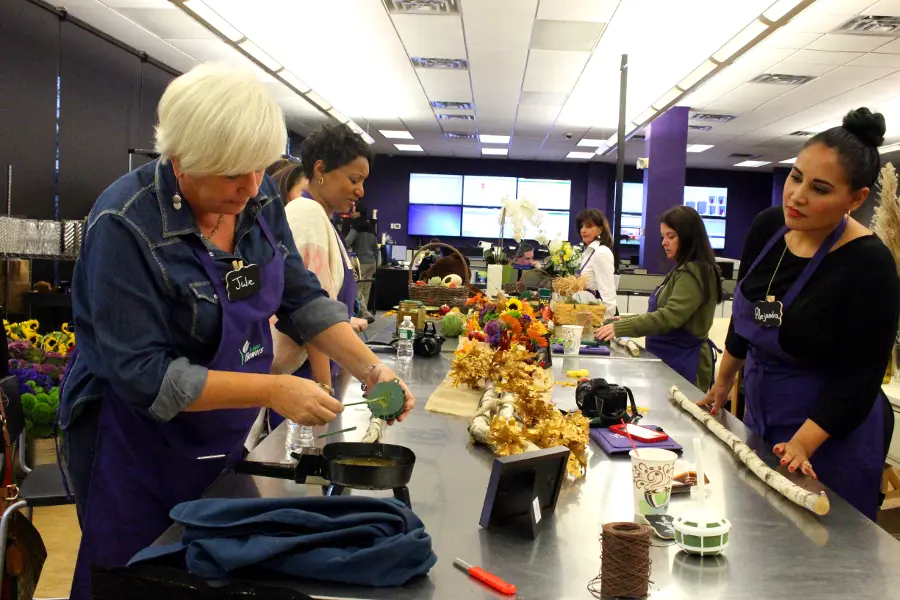 While we're talking about sharing our design secrets, here are tips on how to make some of these easy Thanksgiving designs:
Make an apple tealight candle holder by using an apple corer to cut a circle in the top of the apple just big enough for a tea light. Secret: Amazon sells a tealight apple cutter! Note: We use flameless tealights vs. real candles – safety first!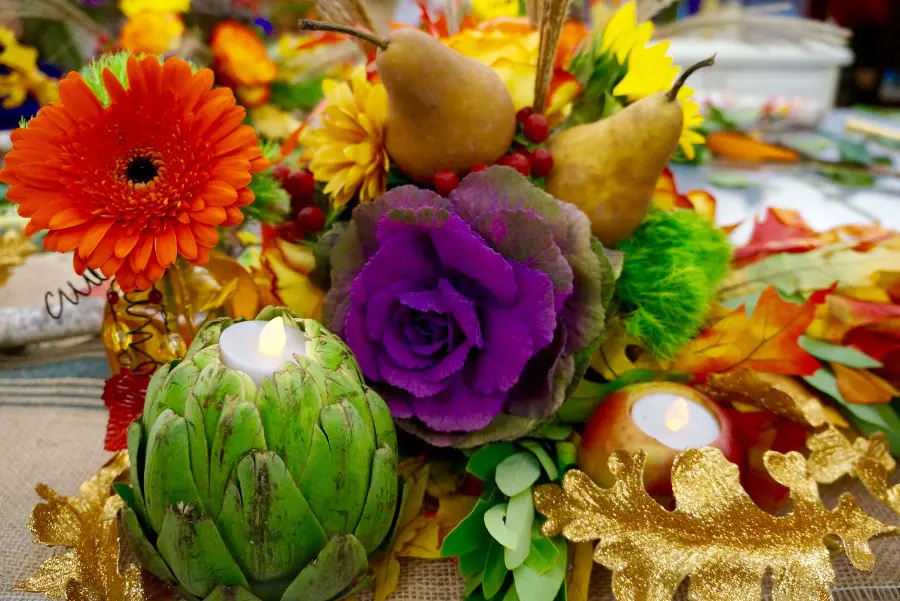 Make an artichoke place setting tealight candle holder or vase. Cut off the artichoke stem so that it sits flat on the table. Then, separate the leaves at the top of the artichoke making an opening to place the tealight candle. To make a vase out of the artichoke, add a piece of soaked floral foam instead of the tealight, and then add your favorite flowers; we used red roses. Now you're ready to add your place card: take one of the outer artichoke leaves, separate it a bit without breaking it, and place a card underneath the leaf. This works great for business cards too.
Decoupage leaves onto a mason jar for a festive fall vase. We used mod-podge to glue down the fall glycerin leaves to the mason jar. Hint: If you buy packaged leaves and they are flat and stuck together, use a steamer to help separate them.
Add height and extra fall flair to your Thanksgiving floral arrangements with tall pieces of wheat or grasses!
Extend the life of a sunflower by removing the petals to give it new life; it still looks pretty! You can also make it into a tealight candle holder by cutting a hole in the center!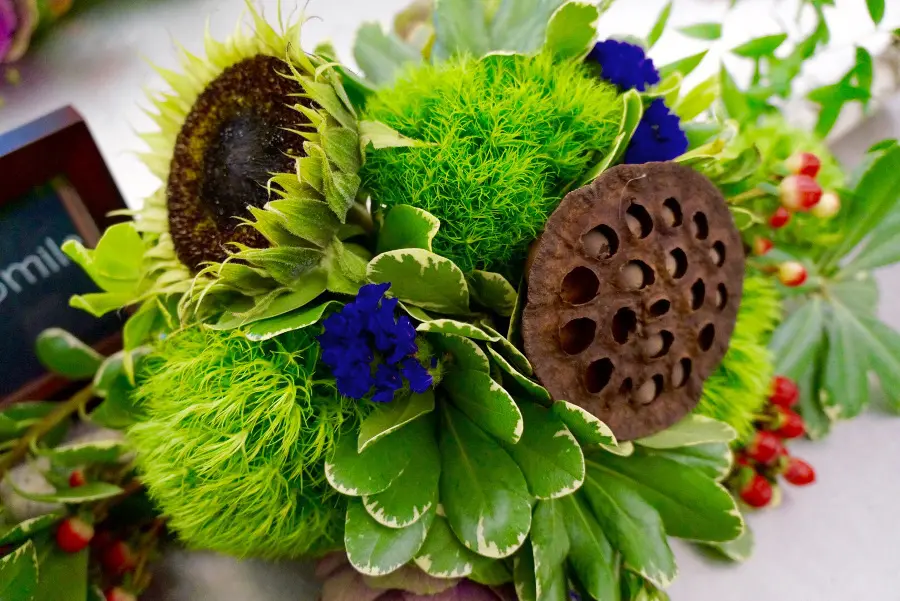 Create a flower arrangement in a pepper vase! Cut out the top of the pepper like you would a jack-o-lantern, clean out the center including the seeds, place a piece of soaked floral foam in the center, and then carefully arrange flowers as desired!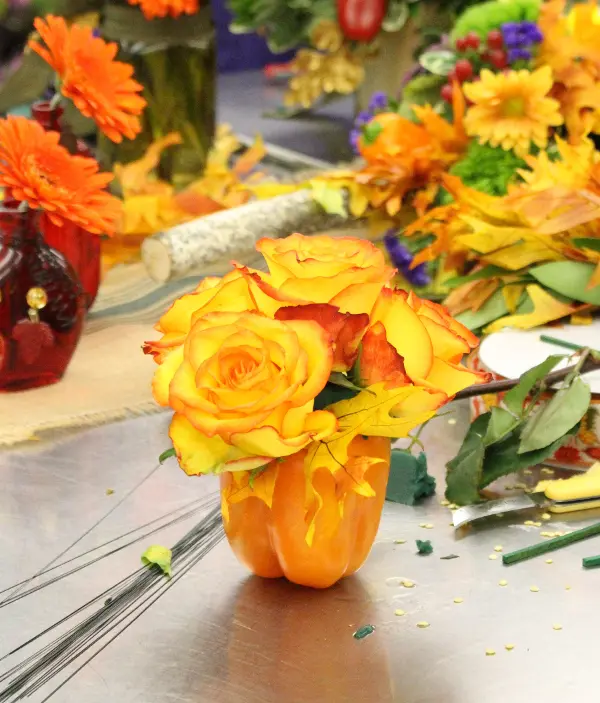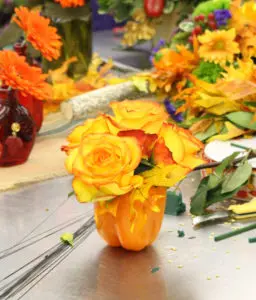 I've said it many times before but my favorite saying is, "If it can hold water, it can hold flowers!" 🙂
After a hard day of centerpiece crafting, we enjoyed a nice lunch together, and snacked on some treats courtesy of the 1-800-Flowers Family of Brands: cookies from Cheryls.com, popcorn from The Popcorn Factory, moose munch from Harry & David, and chocolates from Fannie May.
Before I end this blog post, I HAVE to show off our bloggers' amazing finished products. What I love the most is how each Thanksgiving centerpiece really brings out each bloggers' unique style and personality. Meeting these lovely and creative women, and seeing their gorgeous Thanksgiving centerpieces definitely #MadeMeSmile.
Happy Thanksgiving and I encourage all of you to BRING BACK THE CENTERPIECE!