Today I've Spotted: Jan from The Poodle (and Dog) Blog. She is a former English teacher and writer turned blogger, living in Northern California with assorted people and animals. This blog celebrates the remarkable, the ordinary, and the very funny dogs that share our world. Take a look at her blog.
Here are a few more fun ways you can honor your Pet Lover Mom this Mother's Day!
Retro Floral Poodle
Everything old is new again! Back in the day, florists used to make a poodle in a basket using various types of chrysanthemums. People have always gotten a kick out of this arrangement, so I asked one of the lead floral designers for 1-800- FLOWERS.COM, Jeff Miklos, if he would make one up for our Spot a Mom campaign. It's funny, but as the arrangement is being created you begin to see the "personality" forming. Jeff wires the flowers that he uses to create the nose, legs and tail so that there is even a little movement to the finished product. Let your imagination go and see what floral pets you can create!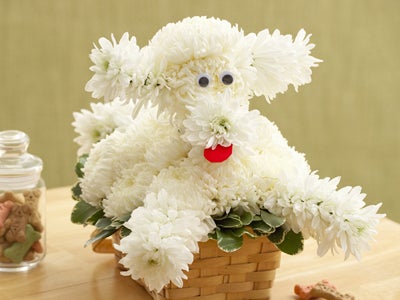 Puppy Love
There are so many decorative pet dishes out there and they make great containers for a flower arrangement or a plant. I used a bi-color carnation that matches the puppy love bowl seen in the below picture. I cut a piece of floral foam to size and created a mound of carnations almost as if the bowl was overflowing with peppermint candy. The carnations will last for weeks and then the bowl gets gifted to mom's little puppy love!