Today I've spotted Edna, otherwise known as Grandma Henke. She shares experiences from her life with her many readers and of course her family. Grandma Henke says her motivation for staying on top of technology is keeping in close touch with her large family, half of which live in the Seattle area. She is able to keep in touch with her grandchildren through emails, cellular phones, texting, and Messenger. Check out this Mom of a Mom's blog!
I have been enjoying the joys of being a grandmother precariously through my sister-in-law Marylou. Marylou is an only child and Erin is her only daughter and now Abigail is keeping the line of Moore women going! What a bond! Marylou has told me so many times how much of a joy Abigail has brought to the whole family in the simplest of ways. The first time that the three of them ventured out into the city for day of running errands and doing a little shopping Marylou said she looked at Erin walking next to her, pushing the carriage and she thought to herself, "It doesn't get any better then this!" Below Marylou shares her thoughts on being a Mom of a Mom with me.
Q: Has being a grandmother lived up to your expectations?
A: It is even better than I expected.
Q: Has it changed your relationship with Erin?
A: Yes, we share more ideas about motherhood. She asks my opinions and she understands the responsibilities of being a parent. We also share the joys and love of a child together.
Q: What's the best part about being a grandparent?
A: Seeing your child with their child is so wonderful. I saw that immediate bond that Erin had with Abigail. It is also so much fun to watch the baby as she grows day by day.
Q: Do you carry pictures of Abigail with you at all times?
A: Most of the time but I have to admit that sometimes I forget to bring them with me! I need to organize them and put a few in an album that I can carry with me so I am always ready someone asks – and they always do – if I have a photo with me!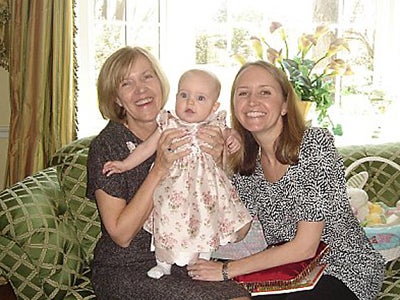 I think a great gift idea for a Mom of a Mom would be a private lesson on how to do some basic things on the computer. In most cases a Mom of a Mom is a woman who is a little bit older and just may not have an opportunity to use a computer everyday as some of us do. It could be a simple e-mail lesson including adding an attachment, setting up a contact list, adding links, etc. Or how about setting up your Mom of a Mom up on Facebook or Twitter?! Think she's ready?
Tomorrow I will share another gift idea for a Mom of a Mom!